It's a hot, sunny, summer day. You're at a backyard barbeque, enjoying the weather and spending time with friends and family. You've got the grilled food all covered. But what else can you serve? Look no further, the answer is here! Deli Salads are the perfect complement to summer barbeques, or to any summer party. These cool and creamy dishes go with almost anything. And deli salads are so versatile. They can be created with a variety of different ingredients and tailor-made to accent many different tastes and flavors.
Since deli salad recipes can be made from so many different things, it's very easy to experiment with them and make each recipe your own. No two deli salads ever need to be the same! But to help start you off, take a look at some of these deli salad recipes. They'll give you a good starting off point, and before long all you'll be able to think about is all the different and wonderful deli salads you can create!
Take the Creamy Waldorf Salad, for instance.  A combination of apples, cranberries, and celery with an avocado dressing, this delicious salad is simply bursting with flavor. The different textures and tastes of this salad make it a truly unique dish.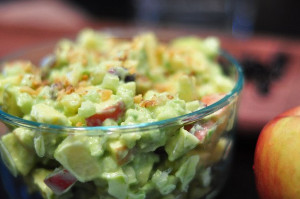 Another great light salad option is the Russian Cucumber & Radish Salad. Made with only five ingredients, this fresh salad is perfect for summer. The dressing is made from a combination of light sour cream and finely chopped fresh dill. This salad can be ready in a matter of minutes, and is a delicious side dish option for any warm-weather event.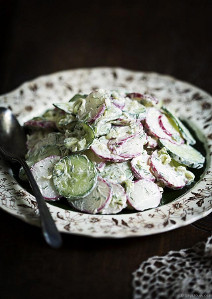 But we're not done yet. If you really need ideas for healthy deli salads for this summer, then you're in luck. FaveGlutenFreeRecipes has complied an entire list of 19 Easy Deli Salad Recipes. Each salad is more delicious and nutritious than the last. You could spend your whole summer exploring all of these different deli salad recipes – and I highly recommend that you do!
And if you're still looking for more options, we have some! These fellow bloggers have wonderful healthy summer salads that you simply must try. With ingredients like tofu and quinoa, aren't you just a little bit curious as to how these will turn out? Give these other delicious salads a try and let the bloggers know how you like them!
Check Out More Gluten Free Salads!
Sweet and Spiced Quinoa Salad by Aleks from Canuck Cuisine
Tofu Eggless Salad by Dana from BuenoVida
What's Your Favorite Deli Salad Recipe?
Latest posts by FaveGlutenFreeRecipes
(see all)