If you are anything like us, it is often hard to decide whether you want pasta or rice as a side dish for dinner. That's when "the San Francisco treat" comes to mind. Rice-A-Roni has been available to consumers for over 50 years in many flavors and forms. Here at AllFreeCopycatRecipes.com we decided to say so long to the iconic box and go truly homemade.
We were surprised by how easy it is to make Copycat Rice-A-Roni without any special ingredients. This recipe works great with any type of meal. The light herb seasonings will complement most meals without taking away from your main dish. The chicken broth adds to the overall savory taste of the rice. Serve this Copycat Rice-A-Roni with chicken recipes, meat recipes, or even fish recipes. This recipe is extremely budget-friendly and will save you money when you stop buying the expensive boxes at the grocery store. We promise everyone in the family will like this dish, even the pickiest children.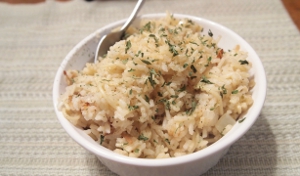 Copycat Rice-A-Roni
Ingredients:
1 cup white rice
1 tablespoon butter
1/2 cup brown up angel hair pasta or orzo pasta
1 small onion, chopped
2 cloves garlic, finely chopped
1 teaspoon dried oregano
1 tablespoon dried parsley
2 cups chicken broth
salt and pepper, to taste
Instructions:
Melt the butter in a saucepan over medium heat.
Add the white rice, broken-up pasta, garlic, and onions. Saute for 10-15 minutes until the onions are translucent and the rice begins to brown. Make sure to stir occasionally to avoid burning the rice.
Add the chicken broth, parsley, oregano, salt, and pepper. Stir and bring to a boil. Reduce the heat to a simmer. Cover the pot with a lid and cook 15-18 minutes.
Take the pot off the heat and let sit for 5 minutes with the lid on. Fluff the rice with a fork to break up any clumps.
What Is Your Go-To Side Dish Recipe?
Latest posts by AllFreeCopycatRecipes
(see all)