When it comes to fast food, Taco Bell is definitely one of our favorite go-tos! They've slowly become the king of fast food (and for good reason).
Just think about it. In the last two years alone, they've created Doritos Locos Tacos (which is the best taco idea we've honestly ever heard), launched a revolutionary and delicious breakfast menu, and have really stepped up their social media and marketing efforts.
Plus, who didn't love The Taco Bell Chihuahua from the last 1990s/early 2000s? As you can tell from the post title, we're still walking around saying "Yo quiero Taco Bell." Frequently. We still even have a few plush talking Chihuahuas that we bought from Taco Bell a little bit ago. Hey, you try watching this commercial with Gidget and stop yourself from saying "Yo quiero Taco Bell" in response to everything. We dare you.
We love Taco Bell so much that one of our editors actually dressed as "Taco Belle" (a play on Taco Bell and Belle from
Beauty and the Beast
) for Halloween and won second place in our office costume contest. That's how dedicated we are to this single fast food joint. Taco Bell is truly on top of the world and we can't get enough of what they have to offer!
However, we love cooking and sometimes we just don't feel like venturing out to Taco Bell. Heck, we have Taco Bell cravings frequently and if we got in the line at the drive thru every time they hit… That wouldn't be good. It's a really good thing that people around the internet have figured out how to recreate Taco Bell recipes right at home. They're truly the next best thing to bringing home a 12-pack taco box. Plus, you can make these into your dream takeout recipes by putting your own twist on them, say with homemade taco seasoning.
Check out all of our favorite copycat Taco Bell recipes for all of our favorite Taco Bell menu items!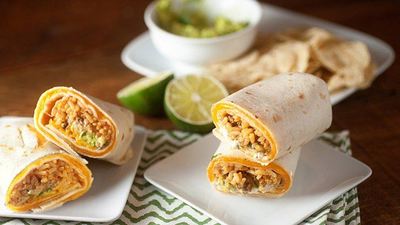 1. Taco Bell Bacon A.M. Crunchwrap Copycat – Our new favorite breakfast!
2. Taco Bell-Inspired Mexican Pizzas
3. Copycat Taco Bell Quesarito (right) – Currently trending on our site!
4. Homemade Crunchwrap Supreme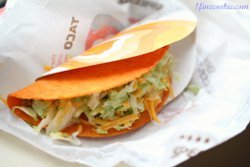 5. Copycat Taco Bell Sauce – You can use it on anything!
6. Copycat Taco Bell Double Decker Tacos
7. Homemade Doritos Locos Tacos (right)
8. Homemade Taco Bell Burrito Supreme
9. Copycat Hard Shell Taco Bell Tacos – Classic!
And, in case you're still hungry after all that, we have a few Taco Bell recipes for dessert for you too! How sweet is that? (Pun totally intended.)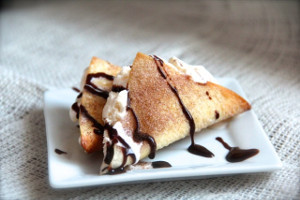 Copycat Taco Bell Caramel Apple Empanadas
A Homemade Version of Taco Bell's Amazing Cinnamon Twists
Sweet Copycat Taco Bell Caramel Empanadas
Cinnamon Sugar Ice Cream Tacos (right) – Ok, so this isn't a Taco Bell recipe, but it's still delicious!
Which of these Taco Bell recipes do you want to try first?
Latest posts by AllFreeCopycatRecipes
(see all)