This post is brought to you by Anjali Shah, creator of The Picky Eater blog. Anjali creates and writes about healthy food that she claims is "husband approved."
Seasonal squash and fresh corn on the cob are some of my favorite things about summer.
While frozen and canned corn are available year round, and are decent substitutions in most recipes that call for corn, there's just nothing like fresh corn cut right off the cob.
It's got that light, sweet and crispy consistency that just feels like you're biting into summer sunshine.
Pair that with some squash, and I'm a pretty happy camper.
Add goat cheese and polenta and some fresh herbs, and you've got an easy, simple dinner that's filling, satisfying and healthy.
There's just something about polenta infused with goat cheese that's addicting and decadent. The husband is a total sucker for it. He can polish off an entire bowl-full of goat cheese polenta at a restaurant without thinking twice.
My mission: make goat cheese polenta healthy and light, and keep it tasting like the restaurant version (which has tons of butter, cream and cheese in it).
I was inspired by this recipe from ThreeManyCooks, and I made a few substitutions to make it even healthier and more flavorful.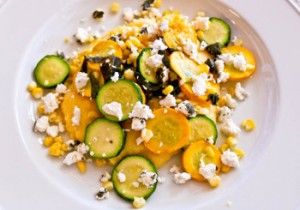 The Ingredients
1 cup instant polenta (make sure it has one ingredient: 100% cornmeal – you can get it at your local grocery store)
4 cups water
1 tsp salt
1/4 cup 1% organic milk
4 ounces herbed goat cheese (you can buy herbed goat cheese at the grocery store, or make your own by mixing plain goat cheese with a mixture of your favorite fresh herbs!)
1 tsp olive oil
2 medium-large yellow squash, sliced into thin rounds
2 medium-large zucchini, sliced into thin rounds
2 ears corn, kernels cut from the cob
4-5 garlic cloves, minced
1/4 cup chopped fresh basil leaves
1/8-1/4 tsp crushed red pepper
Salt and pepper to taste
The Directions
Step 1: Bring 1 quart of water and 1 teaspoon of salt to boil in a large saucepan or small Dutch oven over medium-high heat. Reduce heat to medium-low and whisk in polenta; continue to cook, whisking frequently until polenta thickens to a soft, but not soupy consistency. Keep warm, adding water and stirring frequently to keep polenta soft. When the polenta is almost ready, stir in the milk. This will literally take you 3 minutes (and then the polenta is ready!).
Step 2: Cut all your veggies, and cut the corn kernels off the cob. I like to hold the ear of corn vertically in a large bowl and then run my knife down the sides. That way the little kernels don't go sprinkling all over my kitchen floor as I cut the corn off the cob.
Step 3: Heat oil in a large skillet over medium-high heat. Add zucchini and yellow squash; sauté until squash is soft but still holds its shape, about 5 minutes. Add corn, crushed red pepper, and garlic; sauté to lightly cook. Stir in basil and a sprinkling of salt and pepper to taste.
Step 4: Stir in about 1 oz goat cheese into the polenta right before you serve it. To serve: Pour 1 ladle-full of polenta into a plate, top with a portion of the squash mixture. Top with about 1/2-1 oz crumbled goat cheese per serving.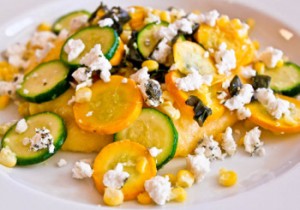 There's just something about this dish that has an air of elegance and fancy, like you've spent hours on it in the kitchen, even though it literally takes 20 minutes to make.
I just love dishes like that.
And I promise: this polenta will be creamy, buttery and delicious – just like the restaurant version but totally guilt-free! It tastes great the next day too, so if you have leftovers, just pack yourself a lunch the night before and you'll have a gourmet meal the next day.
The husband's verdict?
Approved.
Latest posts by FaveHealthyRecipes
(see all)