We're facing a winter dilemma here. We love sitting down with a nice toasty bowl of soup when the weather gets chilly. It's one of our favorite ways to warm up from the inside out. The problem is that it can be tricky trying to find the right soup recipe that'll be hearty enough for those cold winter nights. We think we've found just the solution with our collection of creamy potato soup recipes. Potato soups just have a way of making us feel full without feeling stuffed, which is exactly what we need in January. So sit back, and get ready to make yourself a satisfying bowl of soup for dinner!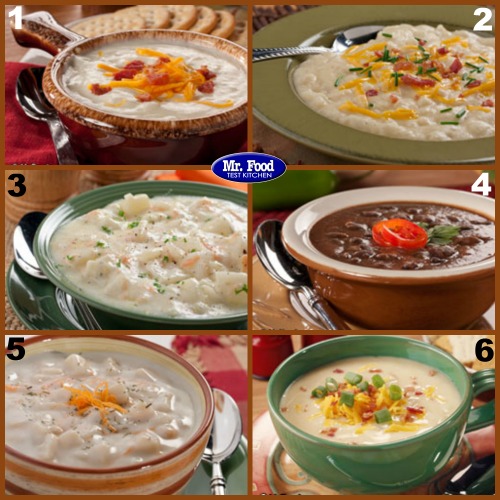 1. Baked Potato Soup: When we're hurrying to get out the door, we love making ourselves an easy baked potato for dinner in a snap. When we want to take our time and really enjoy the flavor combinations found in this beloved meal, then we like to turn to this simple recipe for Baked Potato Soup.
2. Loaded "Baked" Potato Soup: One helping of that baked potato flavor not enough? That's alright 'cause we've got a loaded version with an extra helping of all those flavors you love.
3. Easy Potato Soup: This is the version we recommend if you're looking to customize a potato soup to fit your liking. Want to add in some peas and carrots? Go right ahead! No matter how you make it, this potato soup recipe is definitely a keeper.
4. Spicy Black Bean Potato Soup: Branch out on your potato soup choice with this recipe that's got a bit of a kick. It's still got that creamy texture you love but with a spicier flavor for a unique recipe we bet you've never tried before.
5. Old-Fashioned Potato Soup: You'd think we took this potato soup recipe straight out of Grandma's cookbook! You can smell this one cooking as it simmers on the stove-top, making it an unforgettable recipe for winter.
6. Potato Cheese Soup: Just about every dinner recipe tastes better with a bit of cheese, wouldn't you agree? Put a cheesy twist on the classic potato soup, and you won't be sorry you did!
For all the recipes and more, make sure you check out our collection of Creamy Potato Soup Recipes: 7 Cozy Recipes for Potato Soup.
What's your favorite kind of soup to make in the winter? Let us know in the comments below!
Latest posts by MrFoodTestKitchen
(see all)