Have you ever had saltine cracker toffee? It also goes by the name of Christmas Crack, but no matter what you call it, one thing's for sure: it's completely addictive. Now, saltine crackers and chocolate may seem like an unlikely combination, but you have to trust me on this, the two are a match made in homemade candy heaven. Saltine cracker toffee has the taste and crunch of toffee, but you don't have to worry about fussing with a candy thermometer. Plus, "Crack" Candy is much less expensive to make than regular toffee and, in my opinion, just as (if not more) delicious.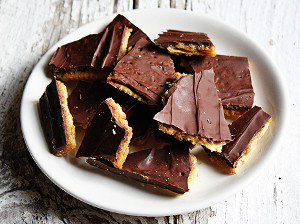 If I haven't convinced you that it tastes amazing, just take one look at the recipe and you'll be running to your kitchen to make saltine cracker toffee. It only requires four ingredients and 10 minutes of total cooking time! So next time you go to a party or potluck, don't buy a packaged dessert. Instead, whip up this "Crack" Candy, let it cool, and wait for the compliments to come when guests take the first bite.
"Crack" Candy
By Amanda Formaro for RecipeLion
Ingredients:
40 saltine crackers
1 cup (2 sticks) unsalted butter
1 cup packed light brown sugar
1 (12-ounce) bag semisweet chocolate chips
Instructions:
Preheat oven to 425 F. Line a rimmed cookie sheet with aluminum foil. Fill sheet with all 40 saltine crackers in a single layer.
In a medium saucepan over medium-high, melt butter and brown sugar together and bring to a boil. Boil for 5 minutes.
Remove from heat and pour caramel mixture over the cracker layer. Spread with a wooden spoon if needed to cover them evenly. Bake in preheated oven for 4-5 minutes, or until just bubbly.
Remove from oven and sprinkle immediately with chocolate chips. When chips begin to melt, spread them over crackers with an icing spatula.
Transfer pan to refrigerator until firm, about 2 hours. Break into pieces and store in an airtight container.
 More Cracker Recipes You Didn't Know You Love
Have you ever baked with Ritz, saltine, or any other kind of cracker? If so, what did you make?
Latest posts by RecipeLion
(see all)