Earth Day is right around the corner. While there are no parties or parades, this is probably one of the most important holidays on the calendar. It serves as a reminder to us all to stop and reflect on what we're doing to help clean up the planet and make its future more secure so that the next generation will enjoy its beauty as much as we did. Everyone can do something to help. Creative recycling ideas are everywhere; all you have to do is search them out. This article on RecipeLion.com shares some tips and tricks to reuse and recycle food containers as well as other frugal ideas to make your everyday more earth-friendly. You can do easy things like re-purpose empty baby food jars to hold spices or use old coffee cans to give away cookies. Almost everyone uses Tupperware, so why not save some money and reuse old Cool Whip tubs? This way you can give them away without worrying about the other person returning them. Taking care of the Earth and reducing waste is as simple as that. Not to mention the fact that reusing things is a money saver. It's really a win-win.
Mason jars are some of my favorite things in this world – seriously. They are simple and pretty, and you can reuse them over and over. You can do just about everything and anything with them. Try this awesome 3D Memory Jar craft from FaveCrafts.com or any of these 11 Portable Mason Jar recipes from FaveHealthyRecipes.com. My mom uses them to can chili, which I then steal, eat, and reuse the jars for my own recipes. They make great gift packages since they are super easy to dress up. It doesn't have to necessarily be a Mason jar, either; you can use any container that's easy to wash out and reuse, such as pasta jars or even soup cans. With a little creativity, there's always a way to reuse something that you'd otherwise throw out.
Try out some of these great recipes that use jars, and be eco-friendly every day, not just on Earth Day.
This great post by The Farm Girl shows you how to make fancy dinner rolls in a jar. You'll love these tasty little breads, and this is a great way to reuse any little jar you might have lying around your house. Make these for when company comes over, and they won't be able to stop fussing over how adorable these dinner rolls are.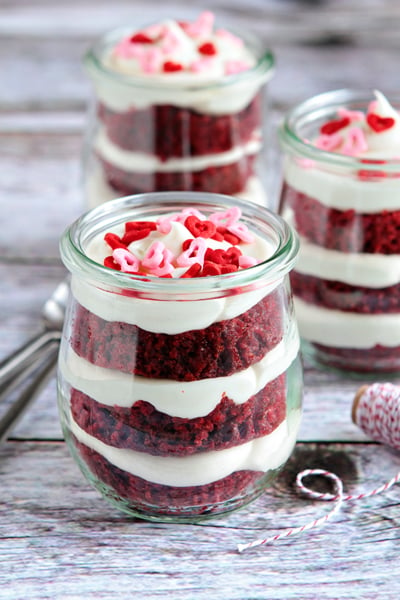 My Baking Addiction shares this awesome recipe for Red Velvet Cake in a jar. You can make these adorable little desserts for any occasion, and since you use jars, you can easily share these cute cakes. Since these take very little time as well, you can enjoy these pretty treats every day of the week if you wanted too. Just make sure you're reusing those jars.
LunchBoxBunch.com shares great tips and a few recipes for making salads in a jar. This is a really easy way to bring your lunch to work – or anywhere really. Super simple and really tasty, as salads usually are, these recipes will have you wanting to eat salads every day of the week. You can make these the night before and simply take them with you wherever you go the next morning.
What are some creative recycling ideas that you have?
Latest posts by RecipeLion
(see all)