Guess What? Today is National Rice Krispie Treat Day! Not that we need a special occasion to whip up a batch of the sticky sweet treats. But hey, we here at TheBestDessertRecipes.com take full advantage of any reason to celebrate desserts. Plus, Rice Krispie treat recipes are just so easy to make. It's honestly impossible to mess up a Rice Krispie treat recipe. But have you ever thought about putting a fun flavor spin on your no-bake dessert?
While we love the classic Rice Krispie treat recipe that has always been on the back of the Rice Krispies cereal box, we really enjoy adding different flavors to our treats. Because they're so simple to make, they're easy to customize for every event and occasion, like holidays and birthday parties. We already have a few of these kind of fun Rice Krispie treat recipes on our site that are perfect for celebrating National Rice Krispie Treat Day. Check them out and let us know what you think about them in the comments below!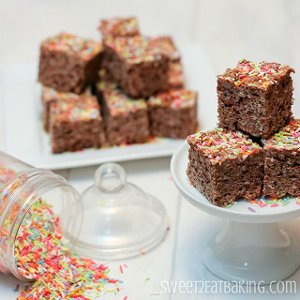 With the substitution of Cocoa Krispies in place of regular Rice Krispies, these treats are extra chocolatey. The cake batter flavor comes from a few extracts that are added into the melted marshmallows. Topped with colorful rainbow sprinkles, how could this dessert not make your mouth water?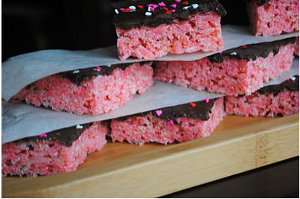 We love this recipe so much that we actually included it in our very first eCookbook. A rich dark chocolate covers the sweet cherry-flavored Rice Krispies. Cherry and chocolate is one of the best flavor combinations out there so it's only natural that it would make for a great Rice Krispie treats recipe flavor.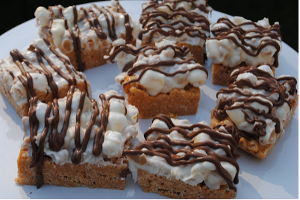 This dessert will help you clear out any and all of your leftover baking supplies in a tasty way. You'll experience so many flavors (from chocolate to butterscotch) in every bite that no two bites will taste the same. Plus, the mini marshmallows on top of the dessert make each treat extra gooey.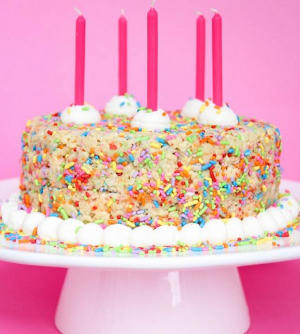 This is the ULTIMATE Rice Krispie treat. Just imagine an entire cake made out of Rice Krispie treats. It's both chewy and crunchy, making for a sweet tooth-satisfying treat. After you make the cake itself, you can decorate it in any way you'd like. Don't forget to add sprinkles!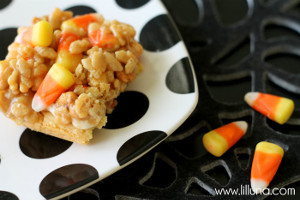 It's September, which means that Halloween is just around the corner. These Scarecrow treats are like a cross between a cookie bar and a Rice Krispie treat. You'll find that each bite is extra chewy, thanks to the sweet candy corn pieces.

Make sure to check out these other great Rice Krispie treat recipes:
Pumpkin Spice Rice Krispie Treats from The Comfort of Cooking
Root Beer Float Rice Krispie Treats from Foods for the Soul
Strawberry Pretzel Salad Rice Krispie Treats from Mallow and Co.
Lime Coconut Rice Krispies from The Sweet Chick

How do you like to customize Rice Krispie treat recipes?
Latest posts by TheBestDessertRecipes
(see all)