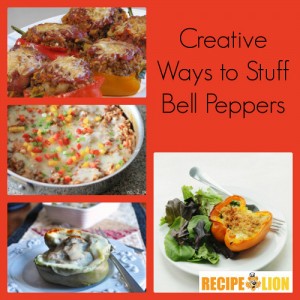 Bell peppers make everything better. Green bell peppers add a cool refreshing bite to dishes, and red, yellow, and orange peppers lend their perfect, mild sweetness. And, of course, their shape makes them perfect for stuffing. Traditionally, stuffed bell pepper recipes are filled with mince meat or ground beef for a hearty, rich dish. But, more recently, stuffed peppers have evolved into a vegetarian-friendly dish, and the favorite filling ingredients have altered. Now, anything can happen with bell peppers! I found so many delicious ways to stuff them, and I'm really excited to share these creative recipes with you.
I'm going to be honest: I strongly prefer bell peppers when they're raw. I'm not a huge fan of peppers cut up in sauces or incorporated into cooked dishes. But stuffed bell peppers are another matter entirely. The pepper is a perfect receptacle for the filling because it absorbs the flavor of whatever is inside without losing all of its own. It stays firm and often even crunchy around the filling, so it provides some texture contrast. Essentially, the bell pepper is the perfect vegetable to stuff.
Another honest confession: I never would have eaten stuffed bell peppers as a kid. In fact, most kids would never even touch something that looks like a stuffed pepper. But, there are actually family friendly ways to prepare stuffed bell peppers! Recipes like Easy Steak and Cheese Stuffed Peppers and Macaroni and Cheese Stuffed Peppers (both found below) are perfect for the whole family because everyone will love them! You can also easily accommodate vegetarians and vegans with these all-purpose recipes.
Then, how do you make the best stuffed pepper? What can you put inside to make it taste great? To which I say, check out the recipes below. You'll be surprised!
Vegetarian Stuffed Peppers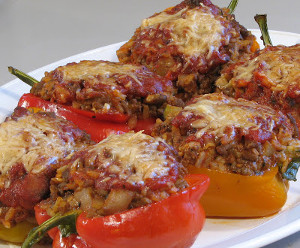 Farmhouse Stuffed Bell Peppers (shown) – These peppers are stuffed to the brim with delicious vegetables like onion, zucchini, and mushrooms. They're a perfect filling dish for anyone who just wants a break from meat.
Vegan Stuffed Green Peppers – So flavorful you won't believe they're vegan, these green peppers are filled with tamari-soaked tempeh crumbles that taste better than real meat.
Italian Vegetarian Stuffed Peppers – These peppers include marinara sauce and mozzarella cheese. They taste authentically Italian!
Recipes with Meat
Bell Pepper Quiche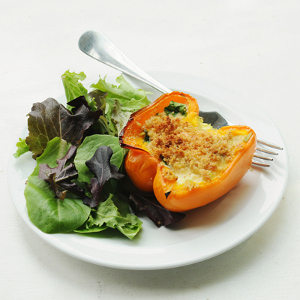 (shown) – Eggs taste fantastic when cooked inside a bell pepper. This quiche is the perfect size for single servings and so delicious.
One Pan "Unstuffed" Bell Peppers – This recipe is a bit of a cheat – it actually contains all of the traditional stuffed pepper ingredients. This recipe is creative because of the way you prepare the "unstuffed" peppers.
Easy Steak and Cheese Stuffed Peppers – Bell peppers are so much better when they taste like Philly cheese steaks. This recipe will be a family favorite!
Chicken-Stuffed Bell Peppers – Chicken can be used as a filling too! This is a great, lighter way to prepare stuffed bell peppers.
Favorite Blogger Recipes
Red Bell Peppers with Couscous and Avocado Sauce from Kristine's Kitchen – This unusual combination of flavors makes the tastiest possible stuffed pepper recipe.
Greek Stuffed Peppers from Edible Perspective – Greek Stuffed Peppers are loaded with your favorite Greek ingredients, like feta cheese, chickpeas, and Kalamata olives.
Macaroni and Cheese Stuffed Peppers from Cook the Story – Perfect for kids and adults alike, you can even use leftover mac and cheese to stuff these peppers.
What is your favorite stuffed bell pepper recipe? Does it include any unusual ingredients?
Latest posts by RecipeLion
(see all)