Hey there! Holly here from Club Crafted again with a super simple recipe for cinnamon twists baked out of crescent roll dough with a chocolate dipping sauce that makes a delicious treat or even party snack.
I love baking things with cinnamon because it makes my entire house smell amazing! Crescent roll dough is really versatile and easy to work with, which makes it perfect for making these fun cinnamon twists. I layered the dough on top of each other with a butter, cinnamon and sugar mixture in the middle. Then, cut into pieces I just twisted them together and sprinkled with additional cinnamon sugar before baking them until very lightly crispy. The rich chocolate sauce pairs well with the spice of the cinnamon, but remember that a little goes a long way!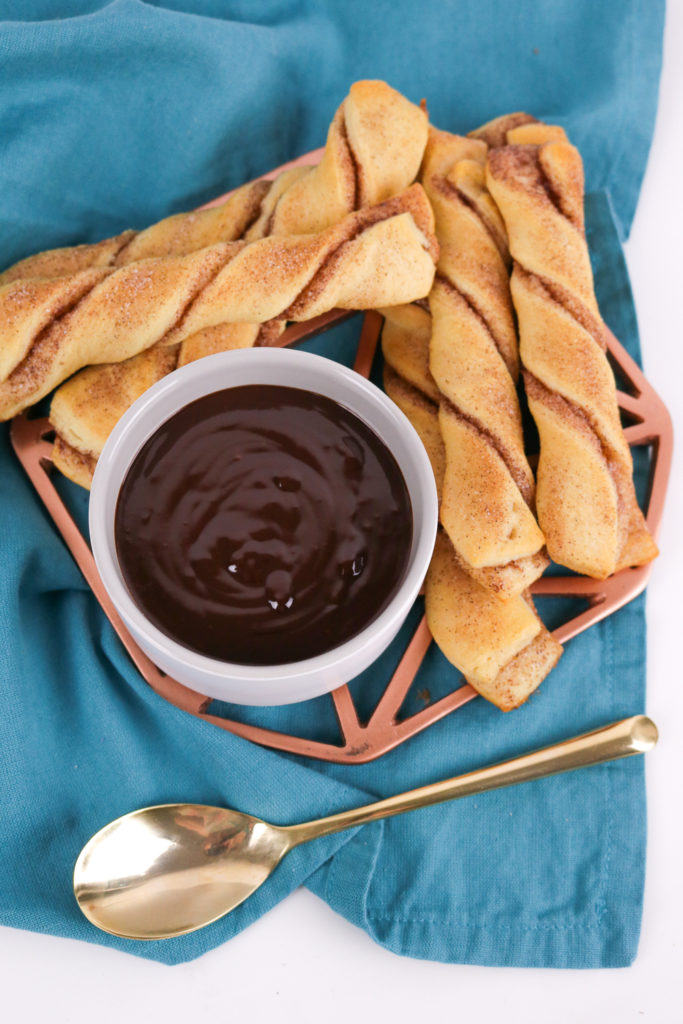 For the crescent roll cinnamon twists:
1 can crescent rolls (approx. 8 rolls)
2 tbsp butter, spreadable or melted
2 tbsp sugar
2 tsp cinnamon
Preheat the oven to 350 degrees. Line a baking sheet with parchment or a silicone mat.
Lay out the crescent roll dough and press the the edges together. Use a pizza cutter to cut the dough in half so you have two equal sized pieces.
Combine the cinnamon and sugar in a small bowl. Spread butter onto one of the pieces and sprinkle about 3/4 of the cinnamon mixture on top. Place the unbuttered piece on top of the buttered one. Use the pizza cutter to cut the dough into 1 inch strips, then cut in half so each strip is about 1 inches wide and 4 inches long. Twist each one, lay on the prepared baking sheet and sprinkle with additional sugar. Repeat with all strips and bake for up to 10 minutes. Let cool for about 5 minutes before serving alongside the chocolate dipping sauce.
For the chocolate sauce:
1 cup semi-sweet chocolate chips
1 cup heavy whipping cream
In a small saucepan on the stove, heat the cream on low heat. As soon as it begins to sizzle, add chocolate stir with a whisk. Remove from heat and continue whisking until melted.
Pour the chocolate sauce into a small bowl for dipping and serve slightly warm.
I find these are delicious alongside a cup of coffee or even milk or hot chocolate. Serve them for a quick snack or even for an easy party appetizer.
Latest posts by Holly Wade
(see all)