I'm Marie Segares from Underground Crafter, and I'm delighted to share a recipe for cookies that are great for spring.
At this time of year, pastel colors are everywhere, so this recipe uses pastel Jordan almonds to add festive colors to these cookies. Jordan almonds are also ground into the dough to add a sweet and nutty taste and sparkly texture. I'm a cookie cookbook collector, and one of my favorites is Mrs. Fields Best Ever Cookie Book. I used the Blue Ribbon Chocolate Chip Cookies as a jumping off point for this recipe.
Now, I should mention that these lacy cookies spread quite a bit and make what looks like a jumbo cookie from a regular portion of dough. This combines the pleasure of eating a whole lot of cookie with a regular portion size. If you don't have the time to individually portion out these cookies, they make wonderful bar cookies, too. Just spread the dough out on a 12″ x 18″ jelly roll pan, space the Jordan almonds evenly on top, bake, and slice!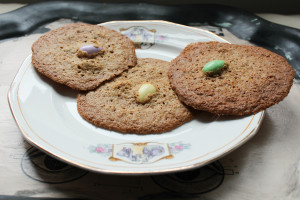 Lacy Jordan Almond Cookies
Recipe by Underground Crafter
Ingredients
2-1/2 (2.5) cups all purpose flour.
1/2 (0.5) teaspoon baking soda.
1/4 (0.25) teaspoon salt.
1 cup (about 8 ounces) pastel Jordan almonds, separated.
3/4 (0.75) cup brown sugar.
1/2 (0.5) cup granulated sugar.
1 cup (2 sticks) salted butter, softened.
2 large eggs.
2 teaspoons almond extract.
Instructions
Preheat oven to 300 degrees Fahrenheit.
Pulverize 1/2 (0.5) cup Jordan almonds in food processor. Set aside remaining Jordan almonds.
Combine ground Jordan almonds, flour, baking soda, and salt in small mixing bowl. Set aside.
In medium mixing bowl, cream butter, brown sugar, and granulated sugar together to form a grainy paste.
Add eggs and almond extract to butter mixture. Mix together until just combined.
Add flour and almond mixture to butter mixture. Stir together until just combined.
Drop scant tablespoon portions onto ungreased cooking sheet, being sure to keep 2″ space around each cookie to allow it to expand. Or, follow suggestions above for bar cookie version.
Top each cookie with reserved Jordan almonds.
Bake 18-22 minutes, or until cookies are golden brown.
Remove from oven and transfer to cooling racks. Remove from cookie trays to cool completely.
Latest posts by Marie Segares
(see all)