So chocolate cake is obviously the best kind of cake, right? It just seems to leave all other kinds of cake in the dust, doesn't it?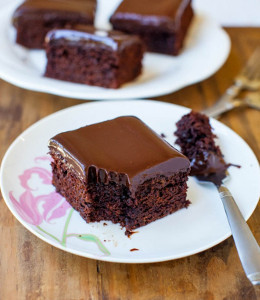 Let's be real for a second. Yes, all cake is delicious and I'd never turn down a slice of cake. Ever. Even if I just finished eating a ten course meal. Turning down cake is never an option for me. However, in that same situation (where I've just finished a ten course meal), if there was a slice of chocolate cake placed in front of me I'd definitely ask for a second. There's always room for more chocolate cake.
Some types of cakes (namely chocolate cake) are just better than others and that's okay. When it comes to cakes, chocolate is king. It's perfectly moist and has a sweet, decadent flavor to it (when done right).
Me, I'm personally partial to homemade chocolate cake recipes. Yes, I love ordering slices of chocolate cake from places like Olive Garden and Portillo's, but nothing beats a homemade chocolate cake. Nothing. Chocolate cake recipes always make for the most flavorful chocolate cakes because they're made by hand and with love. And maybe with a bit of extra cocoa powder or semisweet chocolate than the recipe calls for. I don't even mind using chocolate cake mix when whipping up chocolate cake recipes because they never use just the box mix to make the cake.
*Sigh* Just thinking about chocolate is making my mouth water. Well, that and looking at the pictures of all of these chocolate cake recipes.
Below are all of my favorite chocolate cakes that are on TheBestDessertRecipes.com. If you're like me and you're a fan of the king of all cake flavors, then you've gotta browse through these tasty treats. Right. Now.

…And if for some reason the chocolate cake recipes above don't seem to do anything for you or tickle your fancy, you could always try The World's Best Chocolate Cake. Why? Because it's the world's best. That's why. Just look at it. It's the cake that's pictured towards the top of this post. Doesn't it look delicious?!
Which of these chocolate cake recipes are you most looking forward to trying?
Latest posts by TheBestDessertRecipes
(see all)