Happy Pi Day, dessert enthusiasts! It's personally one of our favorite days of the year.
Now, you may be asking yourself a few questions at this point, including:
TheBestDessertRecipes, why are you spelling "pie" wrong?
Didn't you already post about National Pie Day back at the end of January?
Why are these people so obsessed with pie and pie recipes?
Don't worry, we have answers to all of your questions. First of all, we haven't been spelling "pie" incorrectly. The date today is March 14th, or 3.14. If you think back to the math classes you took in middle school and high school, you should realize that 3.14 is (part of) a pretty important number. 3.14, better known as "Pi" (or Π), is a naturally recurring number that is found in practically everything.
But enough with the math lesson. Let's get down to business. Pie business, that is. Pies are just so delicious and so satisfying, how are some people not obsessed with pie?
Yes, National Pie Day and Pi Day are two separate events. However, you can celebrate them in exactly the same way. Isn't that great?! Below are a few pie recipes that we didn't make for National Pie Day two months ago (but if you'd like to check out those pies, you're more than welcome to). We hope these tasty pie recipes make your Pi Day a good one!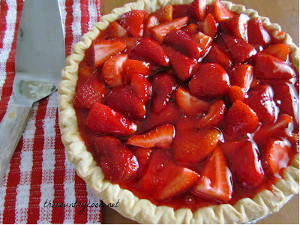 Southern Comfort Key Lime Pie
Farmhouse Strawberry Pie (right)
Irresistible Caramel Cream Pie
Butterscotch Schnapps Apple Pie

Had enough of our homemade pie recipes (as if that's even possible)? Well, then let's transition into brownies. Free brownies, to be exact. Both TheBestDessertRecipes and our friends at FaveGlutenFreeRecipes have brownie-centric giveaways going on right now!


How will you be celebrating Pi Day? Did you used to celebrate Pi Day at school when you were younger?

Latest posts by TheBestDessertRecipes
(see all)