This is a guest post from Carrian Cheney from Oh Sweet Basil.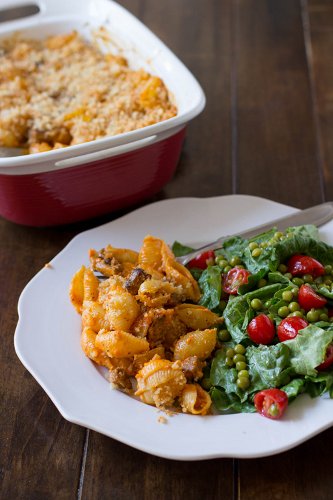 I'm a sucker for a delicious casserole, and even though some people joke about casseroles, I guarantee that there are at least a few recipes that they love too. Roasted Red Pepper Steak Casserole is definitely one of those recipes.
I grew up in a home that pretty much never ate out. Mom always had something warm and homemade ready for us every evening. The older I got, the more I appreciated that after being at school all day (and staying late for after-school activities), it was so nice to come home to something warm and delicious. Meal time was so nice because my parents always had us all leave homework, TV, friends, computer, etc. and gather around the dinner table to talk and be together. My mom has a few really yummy casserole recipes that to this day are some of my favorites. Much like this Busy Day Casserole (from AllFreeCasseroleRecipes), it's really simple, so it'd be easy to think that it's too simple to be delicious. You'd be wrong.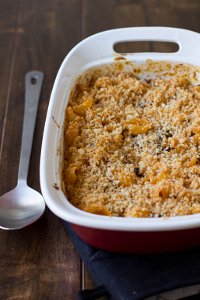 Everyone loves how popular dinner food has grown and changed over the years, and there are so many awesome and delicious new recipes out there, but there's something about having a simple casserole that just feels comfortable. This casserole and many others like it (try out a Steak and Mushroom Pot Pie or Savory Steak and Guinness Pie) are awesome because they use leftovers. I love that. We had roasted red peppers one night to eat with our tri-tip tacos.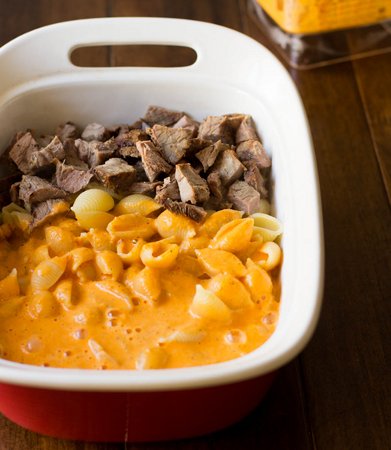 And speaking of the tri-tip, we had leftovers of that too. Now, you just blend the peppers into a creamy sauce and throw in the chopped up steak, and you've just reinvented your leftovers into a delicious new meal! Plus, there's a cheesy, crunchy bread crumb topping, and who could ever resist a panko bread crumb topping?!
Roasted Red Pepper Steak Casserole
Ingredients:
1 16 ounce package mini shells
2 cups steak or tri tip, cooked and chopped
1 16-ounce jar roasted red peppers, drained
3 tablespoons butter, salted
1/3 cup onion, chopped
4 cloves garlic, chopped
3 tablespoons flour
½ cup chicken broth
1 cup heavy cream
2 ounce cream cheese
Bread Crumb Topping
1 cup Panko bread crumbs
1 tablespoon butter
1/3 cup Parmesan cheese
1 tablespoon parsley, chopped
Directions:
In a heavy bottomed pot over medium heat, melt the butter and add the onion and garlic and cook, stirring occasionally, until softened and fragrant. Add the flour and quickly stir to combine. Cook the mixture for 30 seconds and dump in the red peppers. Stir them around for 1 minute and remove to a blender.
Blend the mixture until smooth and add back into the pot. Slowly whisk in the cream, broth and cream cheese. Heat through until thickening and all ingredients are well incorporated.
Meanwhile, in a pot of salted water, add the pasta and cook until almost al dente. Drain well and add to the sauce mixture. Add the meat and stir to combine. Dump into a casserole dish and set aside.
In a small skillet add the butter and cook over medium heat. Once it is melted quickly add the panko and stir to combine. Allow to cook, stirring occasionally until golden brown. Remove from the heat and quickly stir in the cheese and parsley. Sprinkle over the casserole and bake at 350 for 20 minutes. Serve immediately with a fresh green salad.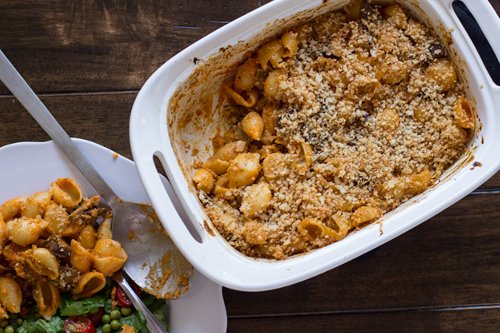 What's your favorite way to reuse leftovers? Let us know below in the comments!
Latest posts by AllFreeCasseroleRecipes
(see all)