Have you ever woken up in the morning and just immediately started craving something sweet, or has a craving for something sweet woken you out of a sound sleep? Those mornings, a bowl of Cheerios, a slice of buttered toast, or even a bagel with cream cheese just won't do. Trust us when we say we've had this problem so many times before. We've even tried eating a bowl of the most sugary cereals we could find, like Cookie Crisp and Trix. Nothing helped. That's when we realized that we were going about this the wrong way. Many dessert recipes can double for breakfast recipes and vice versa! Why didn't we think of this before?
For some reason, we had always stayed away from sugary breakfasts so that we could load up on sugar for dessert. What a mistake that was. The collection of dessert for breakfast recipes that we have on TheBestDessertRecipes.com will make you feel like eating dessert twice a day. They work wonders as breakfast foods and quite possibly taste even better as after-dinner treats. Dessert for breakfast, breakfast for dessert. No matter which way you spin it, it's a total win-win. Trust us.
Here are a few dessert for breakfast recipes that you absolutely must try. After all, it is the most important meal of the day!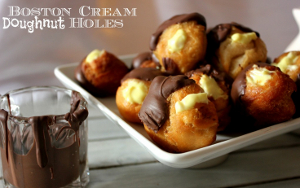 We're not kidding when we say that these taste just like the doughnut version of a gooey Boston cream pie. Each doughnut hole is filled with either vanilla pudding or your favorite vanilla pastry cream, and then topped with sweet chocolate. You'd be a fool to pass these up.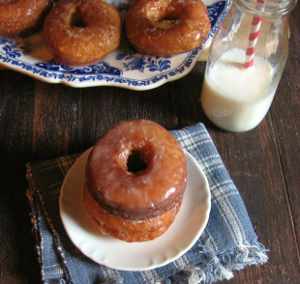 Truth be told, these doughnuts taste wonderful all day, every day. Because you make them from scratch, they're as fresh as can be. They practically taste like you bought them from the farmer's market down the street. Pair them with some cold milk to start your day off right.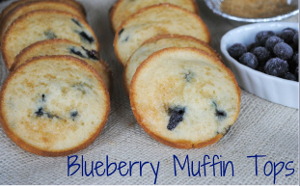 Hands down, the best part of the muffin is the top. You know it, we know it, everybody knows it. With this dessert for breakfast recipe, you won't have to worry about what you should do with the stumps. These blueberry treats bake up nice and fluffy, perfect for breakfast or a late night snack.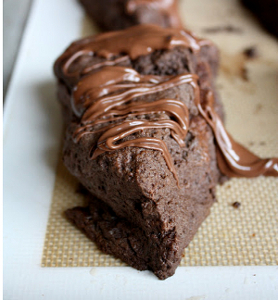 These scones are truly special. They're light and flaky with just enough chocolate hazelnut flavor. Plus, they kind of look like giant brownies, so you know that they'll be a tasty dessert for breakfast. They'll soothe your sweet tooth without weighing you down (which is the last thing any of us wants to feel in the morning).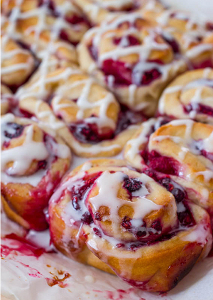 Juicy-sweet raspberries rolled up with a soft pastry dough and then drizzled with a sugar glaze? How could this treat be anything but delicious? The rolls' sweet and tart flavors are sure to make your tongue tingle. Everyone at your breakfast (or dessert) table will love them!

Find more great dessert for breakfast recipes in our compilation,
12 Dessert For Breakfast Recipes That You Absolutely Must Have
, and on these blogs:
Perfect Chocolate Chip Muffins from Keep it Sweet
Cherry Chocolate Croissants from Thumb in Plumb
Fluffy Yellow Birthday Cake Donuts from Monday Morning Donut
What's your favorite dessert for breakfast recipe?
Latest posts by TheBestDessertRecipes
(see all)