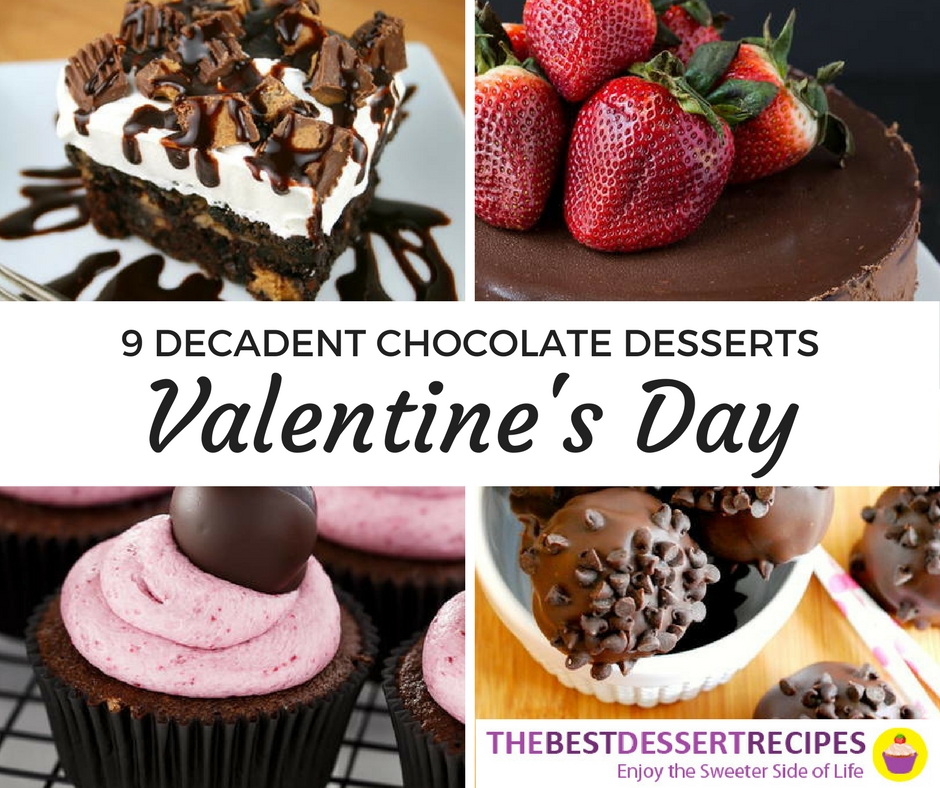 There's nothing as romantic as chocolate on Valentine's Day, but there's nothing more satisfying than a post-Valentine's Day sweet treat! If you're anything like me, the day after Valentine's Day, when all of the candy goes on sale, I make a trip to the grocery store to stock up.
With these 9 Decadent Chocolate Desserts for Post-Valentine's Day Cravings, you can treat yourself and your loved ones with some of the most amazing and rich dessert recipes ever—even after the holiday is over. My personal favorites from this list are the desserts that combine chocolate and fruit. These flavors complement each other perfectly, and they're really crowd pleasers.
Sure, there are other ways to show your loved ones you love them after Valentine's Day is over—from taking them out to a fancy restaurant to leaving a little gift on their nightstand—but making something homemade, especially the desserts, means so much more.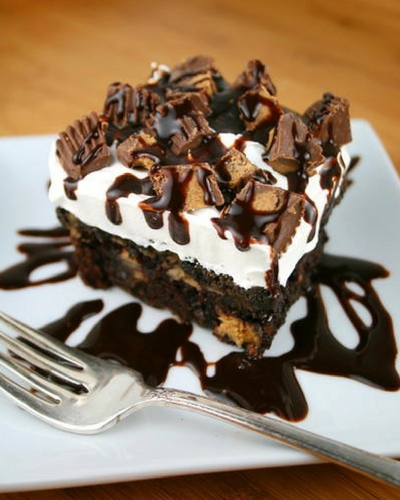 1. Peanut Butter Chocolate Dump Cake Recipe
Talk about decadent desserts! This recipe is simple, which is what makes it so good. This February, you shouldn't have to worry about the dessert. With this recipe, all you'll have to do is throw everything together and let the oven do the rest. Your S.O. will be coming back for seconds with this one.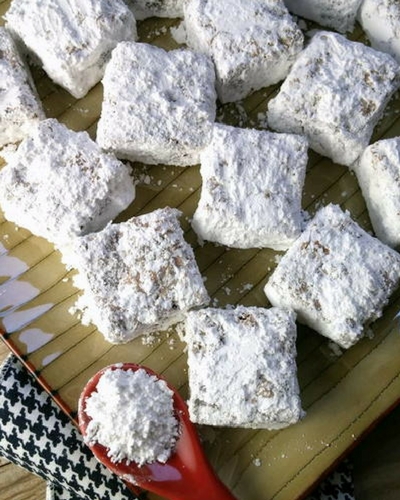 2. Man Bars
Even though these cookie bars are called Man Bars, anyone can make them and everyone will enjoy them! There are only seven simple ingredients in this easy dessert recipe, and no complicated steps. The gooey, nutty, chocolate filling is just what you've been craving, and they're an essential to satisfy any post-Valentine's Day chocolate craving. Give this recipe a try, and you won't be disappointed.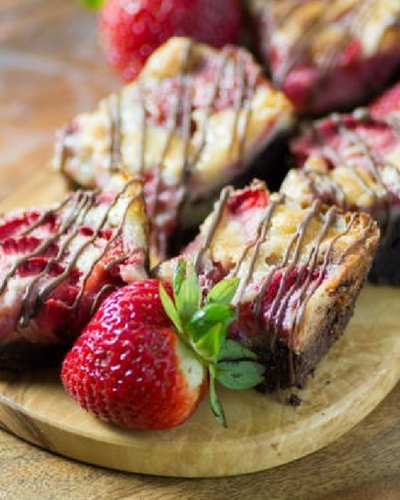 3. Strawberry Chocolate Dream Bars
These Strawberry Chocolate Dream Bars are called dream bars for a reason—take it from me. They're rich but light and creamy at the same time, and the flavor combination of the strawberries and chocolate is simply divine. Make these sweets for your sweet after Valentine's Day, and you'll keep the love going all month long.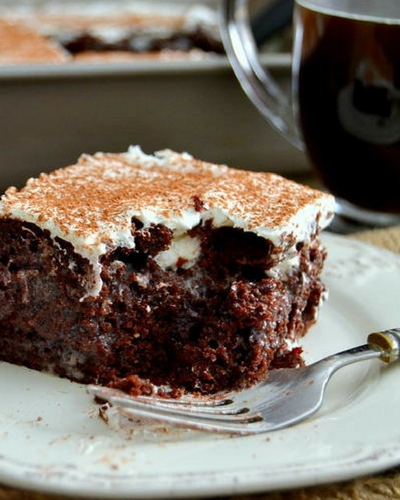 4. Kahlua Tiramisu Poke Cake
This sweet and boozy poke cake is exactly the thing I crave after Valentine's Day. The complex flavors from the Kahlua put this easy cake recipe over the top in deliciousness. It's also easier than most desserts because it starts with boxed cake mix. While the chocolate cake base is indulgent, the fluffy whipped topping keeps things light.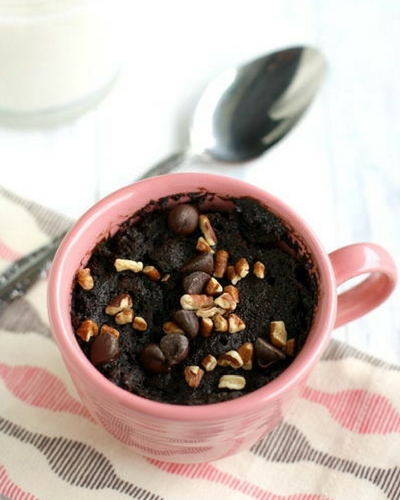 5. Double Chocolate Cake in a Mug
I love every chocolate dessert recipe on this list, but this recipe for Double Chocolate Cake in a Mug is perhaps the best of them all simply because it's easy to portion. If you're planning to make a dessert to treat yourself after an elaborate meal, you might not want to make a large, complicated dessert. With this mug cake, you can easily make a dessert for two!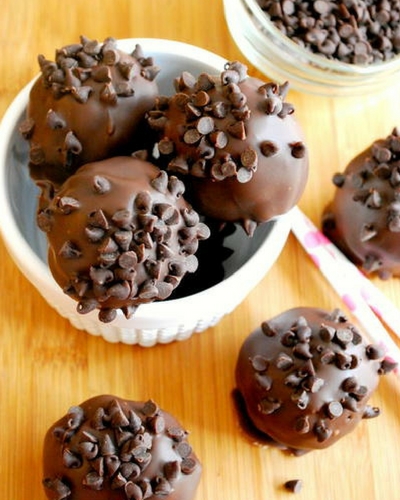 6. No Bake Chocolate Chip Cookie Dough Brownie Balls
Imagine a cookie dough recipe wrapped in a brownie, covered in chocolate, and sprinkled with chocolate chips. That's the intensity of these No-Bake Chocolate Chip Cookie Dough Brownie Balls. This might just be the craziest (and tastiest) chocolate chip cookie dough recipe that you have ever seen.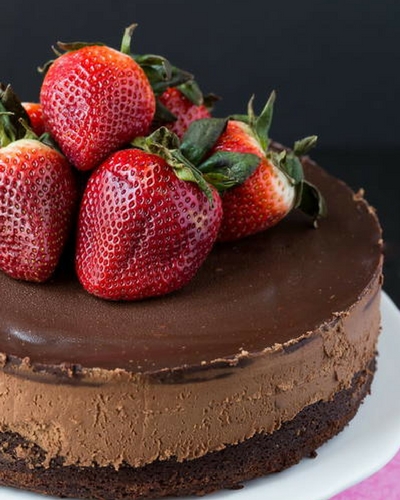 7. Terrific Triple Chocolate Mousse Cake Recipe
I guarantee if you make this mousse cake for your S.O., you'll put a smile on their face. If you're the kind of person who just can't get enough chocolate, then this mousse cake recipe is a must-have. And it's way easier to make than it looks! Give it a try!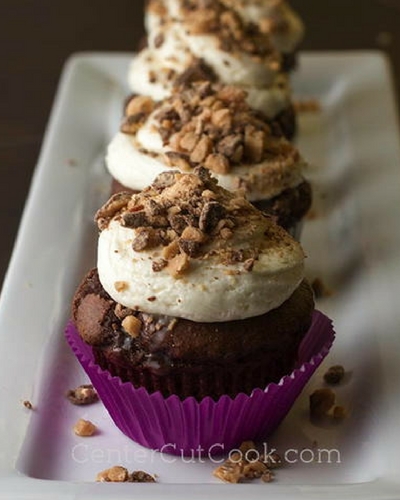 8. Better Than Sex Cupcakes
If you're not familiar with "better than sex" dessert recipes, here's what you need to know. These chocolate cupcakes are made from boxed cake mix, so they're super easy. When they come out of the oven, you poke holes in the top and pour delicious caramel and sweetened condensed milk in the crevices. Just top with frosting and crushed up Heath bars, and they're ready to enjoy!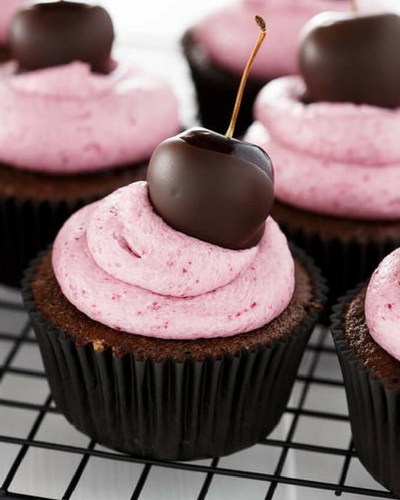 9. Chocolate Cherry Frosted Cupcakes
To be honest, I'm not the biggest fan of cherries, but this chocolate and cherry combo gives you a dessert you can fall in love with. The frosting is rich and flavorful, but it's the chocolate cake base that puts these cupcakes over-the-top in deliciousness.
What dessert will satisfy your post-Valentine's Day cravings? Let us know below in the comments!
Latest posts by TheBestDessertRecipes
(see all)