Skillets, saute pans, fry pans… They're all pretty much the same, right? Well, not quite. For instance, as much as we love skillet recipes, we'd actually probably make them in a saute pan, not a skillet.
But let me back up a moment. What's the difference between a fry pan, a saute pan, and a skillet?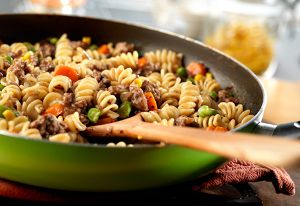 Well, for starters, a fry pan and a skillet are pretty much the same thing. They have slanted sides to them, making them ideal for stir-frying foods and browning meat. The sides allow you to toss and move the food around quickly. You'd also use a skillet for smaller ingredients and pieces of meat, rather than large chunks.
(Another thing that distinguishes a skillet from a saute pan is that skillets don't come with lids because of their slanted sides. Fun fact!)
Saute pans work similarly to skillets, but there are a few key differences. First of all, saute pans have a larger surface area. According to Serious Eats, if you compare a skillet and a saute pan of equal diameter, you'll find that the saute pan actually has 30% more cooking area than the skillet. That's a pretty big deal.
The increased surface area is due to the fact that saute pans have straight sides. These tall, straight sides are ideal for when you're searing large pieces of meat or whisking up a sauce. In addition, these pans are made for lower heat cooking methods (so, not browning meat essentially). Lastly, unless you have a large skillet (namely a cast iron skillet), you may want to actually whip up your skillet recipes in your saute pan!
These pans are pretty much interchangeable. However, now you can answer anyone who asks you what the difference is between a skillet and a saute pan!
Has all of this talk of pans made your mouth water? Sorry about that! I hope you forgive me after I show you all of these skillet recipes you can make on your stove!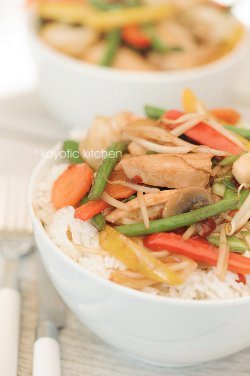 Denny's Chicken Fajita Breakfast Skillet
Skillet Beef & Vegetables (pictured at top)
Stir Crazy Stir Fry (pictured above)
Copycat Applebees Smothered Steak Skillet
Creamy Bacon and Chicken Pasta Skillet
Now that you're done drooling over those skillet recipes, did you know that from now through March 22nd, 2015, you can enter every day for your chance to win a Swiss Diamond 5-piece pan set? The three pans are all 100% nonstick because they're made with real diamonds. The diamonds not only make the pan completely nonstick, but also make it strong and durable. After getting your hands on this pan trio, you'll never have to buy another set ever again. These pans will last you for life and help you make all the delicious skillet recipes you want!
Want to check out the pan trio in action? We took our set into our test kitchen! Check it out below!
Click here to enter our Swiss Diamond 5-Piece Pan Set Giveaway today!
What kind of pan do you use the most?
Latest posts by TheBestDessertRecipes
(see all)