Dumplings are darling, and they're also delicious! They're reminiscent of our darling grandmothers who made them we and our mothers were young. There are so many ways to cook dumplings–it's no wonder that so many cultures have adopted them as their own. You can find Asian varieties of dumplings recipes, for instance, as well as Polish and Jewish varieties too, among others.
AllFreeSlowCookerRecipes.com has a delectable collection of slow cooker dumpling recipes that can't be missed. In our collection, 11 Wonderful Recipes for Dumplings, we've featured a variety of slow cooker dumplings recipes. You'll have to check out the whole collection to get all of the recipes, but we'll give you a sneak peek here of what's inside.
AllFreeSlowCookerRecipes' collection of recipes for dumplings includes a handful of traditional slow cooker chicken and dumplings recipes, such as this recipe for Chicken and Herb Dumplings.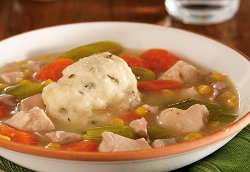 This Chicken & Herb Dumplings recipe serves 8 and cooks for 8 hours (easy to remember). It's an all-day recipe that only takes 20 minutes to actually prepare. So, you can prep it in the morning, and come home to a warm comforting meal. This dish is packed with tasty ingredients, including chicken, carrots, corn, celery, Bisquick baking mix and more. Check out our collection to get the full recipe.
In AllFreeSlowCookerRecipes' slow cooker dumplings recipe collection, you can also find dumplings recipes with beef and  turkey. Some are slow cooker main dish recipes, others are slow cooker soups.
The collection additionally has some fabulous slow cooker dessert recipes using dumplings, such as this recipe for Slow Cooker Apple Dumplings.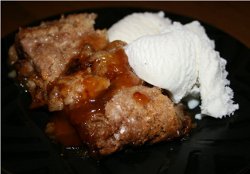 This Slow Cooker Apple Dumpling Recipe is a gooey-sticky treat! It's made with Granny Smith apples, butter, sugar, Mountain Dew soda and more. Crescent rolls give this dumpling recipe a doughy, fluffy texture.
Get these recipes and more from AllFreeSlowCookerRecipes' collection, 11 Wonderful Recipes For Dumplings.
What's your favorite way to eat dumplings?
Latest posts by AllFreeSlowCookerRecipes
(see all)