Print This Post
There is an esteemed episode of The Brady Bunch were Peter Brady is having identity issues. Tying to fit in with his peers at school, Peter decides to take the personality of Humphrey Bogart. At home, Peter goes to the kitchen where he meets Alice, and asks what she is planning for dinner.  She tells him they are having pork chops and apple sauce.  Peter then says,  "Pork Chops and Apple Sauce. That's schwell" in a Humphrey Bogart accent, and we all laugh. The episode ends, lessons are taught, morals are learned, and we're still wondering whatever happened to their dog, Tiger.
To this day, whenever someone mentions pork chops, just like Peter Brady and nothing like Humphrey Bogart, I have to say "pork chops and apple sauce." Even with this annoying habit, I've still been able to enjoy delicious pork chop recipes for dinner. Because when it comes down to it, pork chop recipes are too darn good to pass up, even if you have to hear Peter Brady saying "pork chops and applesauce."
We've collected some wonderful, no fuss pork chop recipes that are really going to please. The best part about these chops is that they are perfect when you need something on the table in a jiffy. We know that you probably already have a go-to pork chop recipe that you fry up in the skillet, so we tried to gather up some recipes that are truly unique. We hope that you enjoy this little collection, and we're sorry if whenever you hear someone say pork chops, you now only hear Peter Brady.
No Fuss Pork Chop Recipes
Hashbrown Pork Chop Casserole.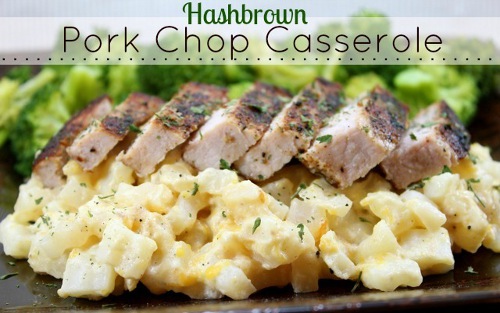 Pork Chop Mozzarella & Pork and Corn Stuffing Bake.
Pork Chops and Apple Sauce & Hawaiian Pork Chops

Creamy Potato Pork Chop Casserole
RecipeLion is dedicated to the best recipes and cooking tips. From quick and easy dinner recipes to new and exciting dessert recipes, we find and deliver the best recipes from all over the web. Plus, we feature free product reviews and giveaways of all the latest and greatest products including cooking gadgets, cookbooks, food, and more. RecipeLion is a wonderful online resource for cooks of all skill levels.
Latest posts by RecipeLion (see all)
Print This Post