I'm going to let that title sink in for a minute. "Vanilla desserts… Better than chocolate or chocolate desserts?!" you must be asking yourself. Yes. Better than chocolate. I'm 100% serious. I mean, just look at those cupcakes!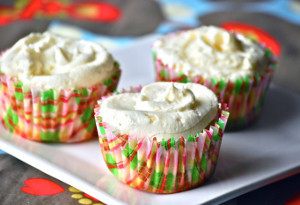 But let's back up a minute here. There's something you have to know about me first: In real life, I actually prefer
vanilla desserts
(and fruity desserts) to
chocolate desserts
. It's heresy, I know, but I can't help it. Vanilla just has a sweet and alluring flavor to it that satisfies me in ways chocolate can't. I know that sounds crazy but I can't help what flavors I fall in love with.
Oh, and to answer your most pressing question, yes, I frequently choose vanilla ice cream (or flavors that use vanilla ice cream) over chocolate ice cream. Sorry not sorry.
Anyway, vanilla desserts. They're delicious. Vanilla cake recipes, vanilla cupcake recipes, vanilla baked goods… They all have a light and sweet flavor that just can't be matched, thanks to the fact that they're made with vanilla.
I know what you must be thinking: "Of course vanilla desserts are made with vanilla! Duh!" Yes. That's true. But what I'm trying to say is that vanilla has this rich flavor that's all its own. It gives a flavor depth that can't be matched. What other flavor do you know that is light and sweet, and yet has a dark, warm, and comforting flavor depth to it?
Okay, okay. I'll stop fangirling over vanilla desserts. But first, you've got to check out my favorites. They may just make your to-do list for the week. (Please let me know if you do make any of them! I'd love to hear what you think!)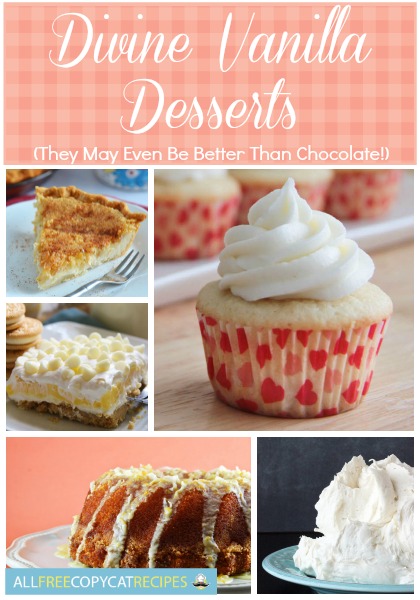 1. Copycat Dunkin Donuts' Vanilla Cream-Filled Donuts
2. Starbucks Copycat Vanilla Bean Frappuccino
3. Copycat Magnolia Bakery Vanilla Vanilla Cupcakes
4. Vanilla Bean Cheesecake Just Like TGI Fridays
5. Vanilla Dreamboat Dessert Lasagna
6. Homemade Little Debbie Zebra Cakes
7. DIY Instant Vanilla Pudding Mix
8. Copycat Starbucks Petite Vanilla Scones
9. Identical Harvey Wallbanger Cake
10. "Make at Home" Starbucks Vanilla Spice Latte
11. Classic Vanilla Butter Birthday Cake
12. No-Bake Cake Batter Cake Balls – Top Pin!
13. Crazy Good Sugar Cream Pie
14. The Perfect Vanilla Frosting – Tastes great on everything!
Vanilla or chocolate: What side are YOU on?
Latest posts by AllFreeCopycatRecipes
(see all)