Store-bought mixes and baking ingredients are great when you're in a pinch, but making your own is simply so much better. With copycat recipes for pantry staples, like Homemade Bisquick, you know exactly what you're eating. I don't know about you, but using mixes with a long list of unknown ingredients makes me question what I'm actually eating. With the homemade versions of popular baking ingredients, I know exactly what I'm eating, plus it just tastes better!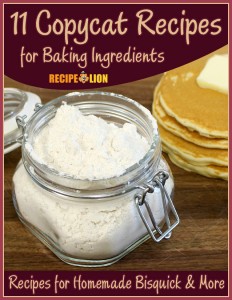 With RecipeLion.com's all new free eCookbook, 11 Copycat Recipes for Baking Ingredients: Recipes for Homemade Bisquick & More, you can easily make your own ingredients that will save you a bunch of money. Just the other day, I wanted to make a cake but my grocery store was out of buttermilk. Luckily, I had a recipe for Homemade Buttermilk Substitute that works perfectly in any recipe and all I needed was milk and a lemon! Many of the copycat recipes in this eCookbook are made with ingredients you already have on hand, so if you need an ingredient for a recipe, you won't have to run to the grocery store.
There are also recipes in this collection that would make great homemade gifts. Making your own gifts can save a bunch of money, and who doesn't love receiving something homemade? Recipes like DIY Brownie Mix in a Jar and Vanilla Extract are super easy to throw together and perfect for anyone on your list.
Here's a sneak peek at what's inside the eCookbook: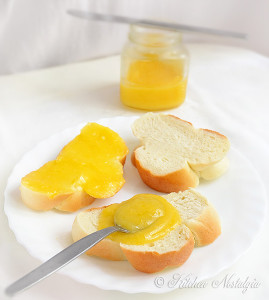 Homemade Lemon Curd – Who knew making lemon curd at home could be so easy? This can be used to make pie, lemon bars, Lemon Bar Puppy Chow, and more! Give it as a gift or keep it for any time you need it. Homemade Lemon Curd can be stored in the freezer. It won't freeze solid, so just spoon some out when you need it.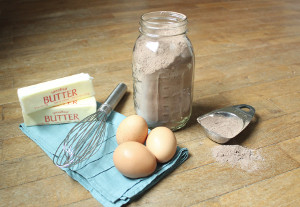 DIY Brownie Mix – Talk about a great homemade mason jar gift. Stop buying the store-bought brownie mix and make your own instead! It's so easy and much less expensive. Store it in a mason jar to use whenever that chocolate craving strikes.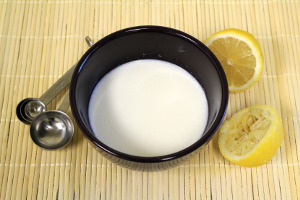 Homemade Buttermilk Substitute – Buttermilk can be hard to find and it's not something most people usually keep on hand. With this easy recipe, you can make your own copycat recipe for buttermilk that works just as well. Simply mix together milk and lemon and you're good to go!
Also included in the eCookbook is this recipe for Homemade Bisquick. Enjoy!

Latest posts by RecipeLion
(see all)