Our editorial team here at RecipeChatter consists of eleven women and we like to think of ourselves as a pretty diverse group. But if there's one thing we all have in common, it's a sweet tooth that just won't quit. Put a tray of treats in our break room and they'll be gone within minutes. Birthday cake for a co-worker's special day? We're all going in for that second slice. Valentine's Day a few weeks ago? We were all crashing from a candy sugar high at about 2 p.m. because we just couldn't resist that second, third and (let's face it) fourth chocolate bar.
So, when we were approached by Domino Sugar® to be part of their Sugar Blog Tour, we were more than a little excited. Review sugar?  Of course we would!  With pleasure!  And the best part?  We get the chance to give away some free Domino sugar products to a few of our lucky winners, so keep reading for more about that!  I should mention that we are being compensated by Domino Sugar (see our Disclosure Policy) for our participation in this campaign with the Mom It Forward Blogger Network.
Okay, now on to the sweet stuff!  Domino just released these new flip-top canisters (on the West Coast they're under the brand name C&H®).  Don't they look sleek and neat?  I'd definitely leave these out on my kitchen counter so they're easy to grab in the morning. They're much prettier than a big old bag of sugar… plus you don't have to fuss with filling up a sugar bowl!  I'm a bit of a mess in the morning, so anything that helps me get out the door easier, like these quick-pour tubes, is a plus for me.
More "Frenzy Free" Morning Tips:
Set out your breakfast dishes and cookware the night before. One less hassle in the a.m.!
Limit time-wasting wardrobe decisions by laying out your clothes the night before.
Steer clear of the TV and other electronics to avoid distraction during the busy morning rush.
Have a go-to list of favorite morning meals on-hand so making breakfast is never a hassle.
Something else I love about these canisters is that they have pop-top lids that make it super easy to pour your sugar without a ton of mess. And the tight seal means the sugar stays fresh, unlike the kind in plastic or paper bags. One of my top 10 pet peeves is clumpy brown sugar, so these new packages make me supremely happy!  As a baker, I know this new brown sugar packaging is going to be a life-saver for me in the kitchen. I can't tell you how many times I've thrown away brown sugar gone bad.  You too?  You're going to love Domino's Pourable Light Brown Sugar… I promise.
Whether you're a baker like me, or just someone who loves sprinkling brown sugar over oatmeal or cereal in the morning, below are some recipes you're sure to love. I've also included some of my favorite hot and cold drinks that I love sweetening with some sugar, like Domino's Quick Dissolve Superfine Sugar. I really hope you enjoy!
Cookie Butter Brown Sugar Streusel Bars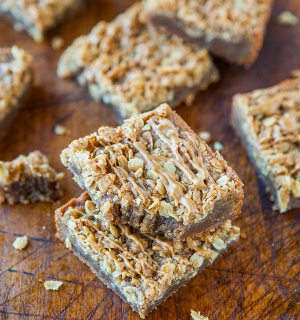 Slow Cooker Apple Cinnamon Oatmeal
Amish Brown Sugar Dessert Dumplings
Just Like Panera's Iced Green Tea
Want to WIN some Domino Sugar for FREE?
We're giving away three (3) free coupons to try Domino or C&H sugar (up to a $3 value). All you have to do is comment on this post below answering the following question:
What is your favorite treat to make with sugar?
Rules:
There is a maximum of one entry per person. The entry will be based upon a comment left on this blog post. Duplicate comments will be deleted and are not tallied.
The winner will be selected at random from the comments on this blog post.
Winner will be contacted by the email address provided.
You have until March 8th, 2014, at 11:59p EST to leave your comment on this blog post. Comments posted after that will not be counted.
Contest open to anyone 18+ in US.
Latest posts by RecipeLion
(see all)