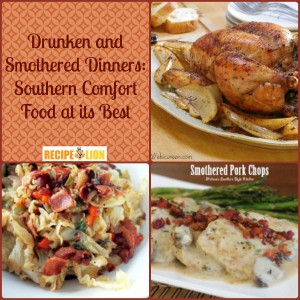 When I come home from work, I need something hearty for dinner to keep myself going through the evening. That's why I love making Southern comfort food after a long, hard day. Now, don't let the names of these dishes scare you off! Drunken dishes are simply made with a little bit of alcohol, while smothered dishes are covered in thick, creamy sauces. These dishes will make you think about home-cooked meals from your childhood and your favorite hearty meals.
Drunken and smothered dishes are perfect for family dinners, especially since they're so easy to make. Usually you just make the sauce and put the dish in the oven or slow cooker to cook. Plus, a dinner this rich in flavor will keep everyone at the table happy.
Serve any of these dishes with a side like mashed potatoes, southern-style green beans, or rice for an authentic southern meal. You will love how easy it is to incorporate these delicious recipes into your typical dinner repertoire. Make one tonight, and you'll fall in love with Southern comfort food all over again.
Easy Drunken Dinner Recipe Ideas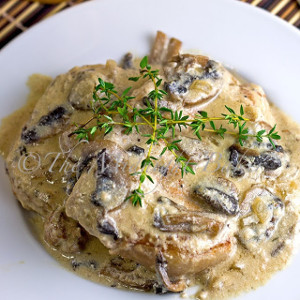 Drunken One-Pot Pork Chops (shown) – Don't get mixed up in a messy, involved dinner-making process! These one-pot pork chops have minimal clean-up and they're infused with brandy or whiskey (depending on your preference), so they have a very rich flavor.
Drunken Chicken and Potatoes – This drunken chicken is classic Southern comfort food that will warm you up inside. It's made with only five ingredients, so you don't need to stress about this recipe.
Spicy Drunken Shrimp from Wishful Chef – Switch it up with this crazy easy shrimp recipe. You can really customize the flavor of the dish according to your preference – adjust the amount of spice you use and choose your favorite type of beer
for the sauce.
Great Dinner Ideas with Smothered Dishes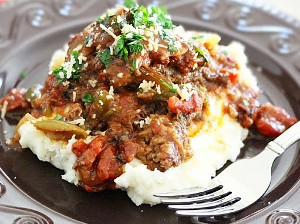 Southern Smothered Chicken and Gravy – The gravy and onions on top of this chicken are out of this world! You'll love the bold flavor in this dish.
Slow Cooked Smothered Swiss Steak (shown) – Swiss steak is a classic dish that you can easily learn how to make. Since this is a slow cooker recipe, you can just let the meat cook all day while you're at work!
Smothered Cabbage – Fried cabbage is the best Southern comfort food side dish, and this recipe is a delicious twist on the original. It's made with bacon grease – how could you go wrong with a recipe like this?
Bacon and Mushroom Smothered Pork Chops – This recipe serves a ton of people, so you can make it for larger family gatherings. Plus, it's a great way to make naturally bland pork chops taste amazing.
Queso Smothered Chicken from Plain Chicken – If you're looking for a Mexican-inspired smothered dish, this recipe is for you. The chicken in this dish is grilled and coated with a delicious cheese and salsa combination.
 What is your favorite type of Southern comfort food?
Latest posts by RecipeLion
(see all)