I just don't think it's possible to eat enough Chinese-style food. There's the old stereotype that you eat Chinese food and you're hungry hours later – but I think it's just so good that I can't possibly get enough. However, there are drawbacks to ordering out often. Mainly, it gets expensive and it's not very healthy. Plus, who likes waiting around for delivery? Dump dinners are a great alternative.
Get your Chinese food fix right when you got home from work with this hot new Test Kitchen recipe. Experience the sweet, tangy taste of your favorite entree anytime with our General Tso Chicken recipe. It's definitely better than takeout. This dump dinner isn't much work with only six steps. Since it's a slow cooker chicken recipe, technology will take care of the hard part.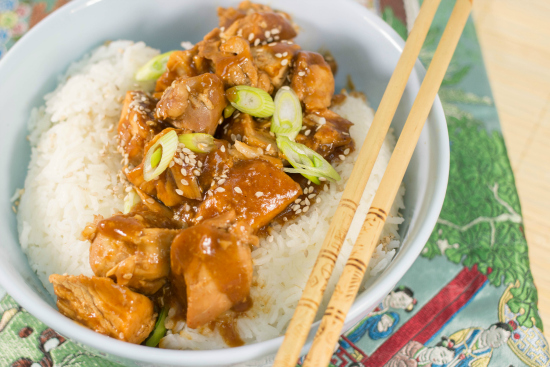 Serve this delicious, sweet chicken over rice and you'll wonder why you ever order out!
Better Than Takeout Dump Dinner: General Tso Chicken Recipe
Serves 6

Ingredients:
½ cup water
½ cup brown sugar
3 tablespoons hoisin sauce
3 tablespoons catsup
2 tablespoons soy sauce
1 teaspoon very finely minced fresh ginger or ¼ teaspoon dry ground ginger
½ teaspoon crushed red pepper flakes (or to taste)
¼ teaspoon sesame oil
2 pounds boneless and skinless chicken – choose thighs, breast or a combo
1 ½ tablespoons cornstarch
Cooked rice for serving
Slivered green onion and sesame seeds for garnish
Instructions:
Spray the inside of the slow cooker with cooking spray.
Combine all sauce ingredients in a large bowl until smooth and well mixed, then toss with the chicken pieces to coat.
Place chicken and sauce into slow cooker set on low and cook 4 -5 hours.
Remove chicken from the sauce to a chopping board and cut into 1-inch pieces.
Spoon out about 3 tablespoons of the sauce into a small bowl and combine well with the cornstarch to make a thick paste. Stir this into the sauce in the cooker until well mixed, then return cut up chicken to the pot. Continue to cook another 15 – 20 minutes until sauce thickens.
Serve over cooked rice and sprinkle with toasted sesame seeds and slivered green onions.
Other Better Than Takeout Recipes
What's your favorite food on Chinese restaurant menus?
Latest posts by AllFreeSlowCookerRecipes
(see all)