Dump dinners are basically a life-saver when you're busy – which is pretty much all the time, right? It doesn't take more than a week of eating at restaurants for the glamor to wear off, and suddenly you really want a homemade meal. But who has the time for that, between your job, family and other responsibilities? Guess what – you do! These easy dump and go dinners are a complete life (and time) saver. Now you can eat wonderful homemade meals in just a few steps! When you need quick dinner ideas, we've got you covered.
Weeknight dinner ideas are hard to come by. Many quick dinner recipes seem too complicated or aren't budget-friendly. Maybe they're quick, but they're too much work when you're tired and hungry. With dump dinners, there's little prep so you can sit back and let your dinner make itself. Best of all, these dinners tend to be family favorites. Simple is better! Plus, when you're dealing with easy dinner recipes, it's easy to modify for dietary needs.
We decided to expand on our popular collection of 9 Dump & Go Dishes: Quick Dinner Ideas for When You're In a Hurry. After all, there's a great need for them! Here's three weeks worth of dinner ideas. That's a month's worth, planned out for you. Just pick up the ingredients and you'll be ready for a quick dinner in a pinch.
Whether you're looking for an easy casserole recipe or a slow cooker main dish, you'll find something both quick and easy in our collection of dump and go dinners. Go on, give it a try – your inner chef is ready for these quick dinner recipes. Feed your creativity!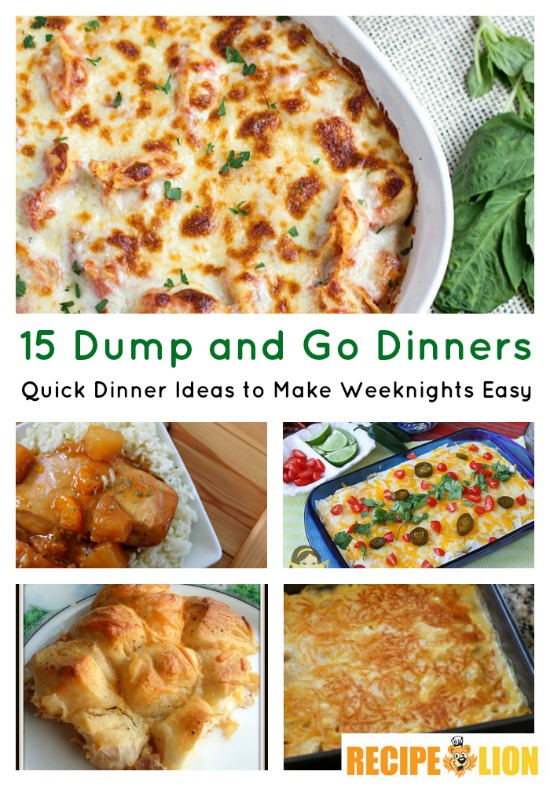 15 Dump & Go Dinners: Dump Dinners to Make Weeknights Easy
Plus, ground beef recipes always make more a quick, easy meal! Love these quick dinner ideas? Don't miss 9 Dump & Go Dishes: Quick Dinner Ideas for When You're In a Hurry.
What's your go-to quick dinner?
Latest posts by RecipeLion
(see all)