Easter is an interesting time for candy, second only to Halloween. Every candy company seems to have their own Easter version, and then there are the candies you only see at Easter like Cadbury Eggs. So. Many. Candy. Eggs.
As a kid, you're ecstatic to find Easter candy in the bottom of your basket and promptly devour all of it (and maybe some of the grass, by accident). Except for the big Chocolate bunny – that one, you just chomp off its head and save the rest, wrapped in foil, for another time / three months later when you find it again. Then, you run off to try all the delicious Easter recipes for your early Easter dinner or brunch!
But have you gone back and tried all that candy as an adult, with special adult taste buds? Moreover, have you done an in-depth examination of the TRULY WEIRD Easter candies out there? There is edible Easter grass. Yes. This is a thing.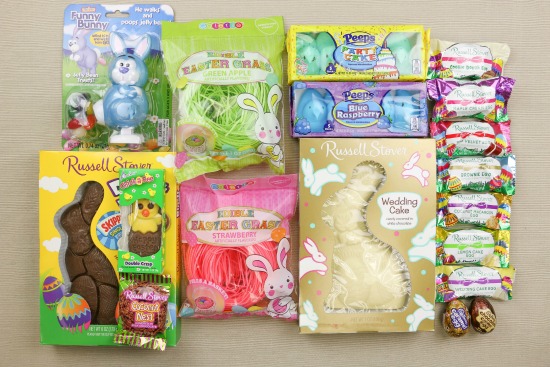 Your pals at RecipeLion.com went and tried all of the weirdest Easter candy we could find.
1. Edible Easter Grass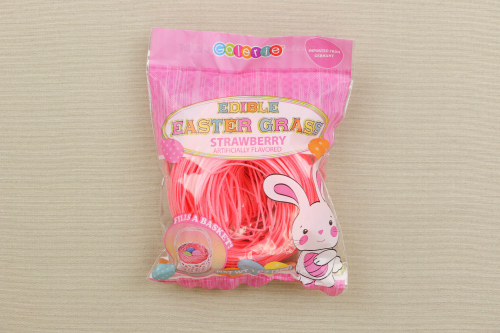 Not gonna lie, at first, the fact that this treat exists is super weird and a bit off-putting. After all, why would you want to eat basket stuffing? But it's actually super, super addicting. It's hard to stop eating it after you start. Sure, it's a glorified (and grass-ified) church communion wafer, but ohmygoodness. Good stuff. *stuffs face*
2. Wedding Cake-flavored Chocolate Bunny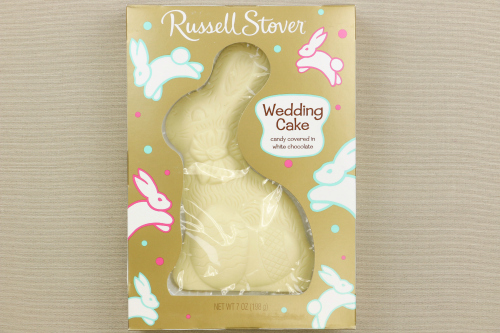 Upon seeing the words 'Wedding Cake' you might think this bunny might be life-changing, like an actual wedding cake. In that regard, perhaps this bunny-of-a-different-color isn't lying. The taste of unicorn tears and regret still lingers. This was a divorce bunny. Also, wedding cake is apparently a trendy candy flavor at the moment. We also tried a candy egg in this flavor. (It was also weird.)
3. Blue Raspberry Peeps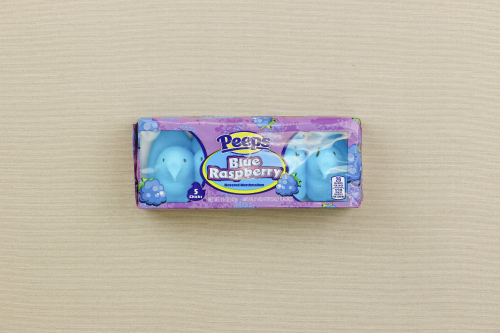 Blue hands. Blue tongue. Blue insides, probably. I'm blue, da ba di da ba di.
4. Jelly Beans with Actual Flavors

These are pretty good, although we can all agree that purple and black are just plain weird beans. After you eat about 5, the taste becomes this odd sugary nothingness that ensures sores inside your mouth. Also, a jellybean tastes best when dug out of the bottom of your basket, with a stray piece of Easter grass stuck to it.
5. Red Velvet Egg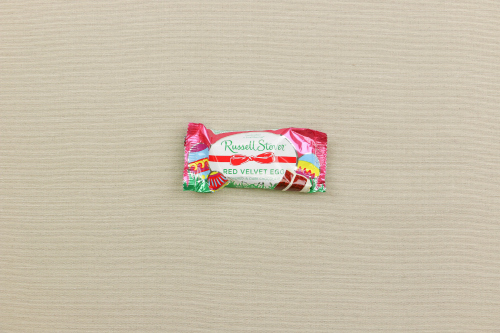 This Red Velvet Egg is for when you want to discover what the Great Depression tasted like. It was VERY heavy on the chocolate, but also very disappointing at the same time. Red velvet is, in general, the poor man's chocolate. It's either just satisfying enough or terrible. And yet, red velvet is all the rage now. Looking up and down the Easter candy aisle, there are so many more red velvet-flavored treats, including these eggs, some chocolate bunnies, and other chocolate treats. Not a fan.
Not sure what to do with all your weird candy leftovers? Try making our Leftover Easter Candy Bark!
 Check out our full taste test in our video!
P.S. Skip the candy and make these awesome Easter dessert recipes at home!
1. Carrot Cake Bread Pudding
2. Chocolate Egg Blondie Bars
3. Lemon Lush
4. No-Bake Blueberry Cheesecake Bites
5. Shortcut Muffin Tin Carrot Cakes
6. Mom's Three-Layer Carrot Cake
7. Cream Filled Easter Eggs
What's your favorite Easter candy?
Latest posts by RecipeLion
(see all)