The 4th of July is almost here. I can almost smell the hot dogs and hamburgers simmering on the grill and hear the colorful fireworks as they explode in the sky. It's one of my favorite holidays because I love the laid-back atmosphere and all of the tasty food that comes along with it. Have you picked out which 4th of July recipes you're going to whip up yet? If your family is anything like mine, they demand a whole table of tasty desserts to choose from so that they can satisfy their sugar cravings. My guests love the desserts more than they love all of the fresh-off-the-grill food. So, I guess what I'm saying is that 4th of July dessert recipes are important.
If you're still unsure about which 4th of July desserts to whip up, you should definitely check out our free 4th of July Dessert eCookbook, 22 Easy 4th of July Dessert Recipes eCookbook. Now I know what you're thinking: "RecipeLion, I've seen that eCookbook before. It's old news." You're partially correct. While the eCookbook has been around a little while, we actually just updated it! We've added a few new recipes, complete with great photos, that we here are RecipeLion.com know all of you are going to love.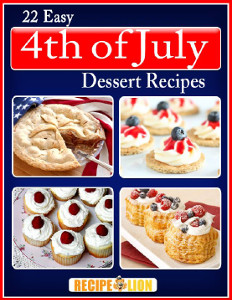 In this free eCookbook, you'll find easy pie recipes, cake recipes, frozen treat recipes, and more. When we first created the eCookbook, we scoured the internet for great 4th of July dessert recipes and compiled the best of the best into one cookbook. Now, we've added a few more to make our collection better than ever. Take a sneak peek at the newest 4th of July dessert recipes below!
Raspberry Filled White Chocolate Buttercream Cupcakes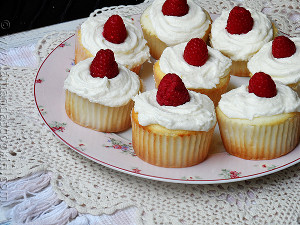 You won't believe how wonderfully the buttercream cake melts in your mouth. The raspberry filling, made from fresh, summer-ripe raspberries, adds sweetness and delicious flavor to every bite you take.
No Bake 4th of July Cheesecake Bites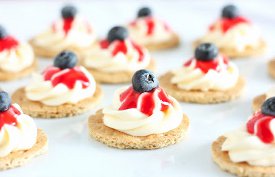 These no-bake treats are perfect for the 4th of July because you won't have to make your house as hot as the outside temperature. Plus, they make for great finger food.
Red White & Blueberry Puffs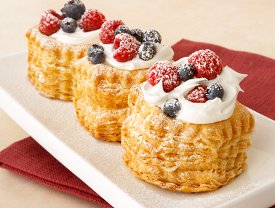 Cream-filled pastry shells are covered with ripe berries and sprinkled with powdered sugar. You'll love watching these disappear off of your 4th of July dessert table.
Find these patriotic treats and more in our free, newly updated 22 Easy 4th of July Dessert Recipes eCookbook and give your friends something else to talk about on the 4th of July besides hot dogs, parades, and fireworks.
Tell us, what are some of your favorite 4th of July dessert recipes?
Latest posts by RecipeLion
(see all)