The weather is finally warming up, your friends and neighbors are coming out of hibernation, the days are getting longer – it's the perfect time to invite the baseball team over or host a book group or just catch up with old friends. Often times we hesitate to host an impromptu gathering because we have no idea what kind of food to serve our guests, or we just run to the closest store to spend too much money on prepackaged snacks.
These three easy appetizer recipes by Cottage Girl – Roasted Red Pepper Dip, Easy Stuffed Mushrooms and Zesty Artichoke Bites  – are all made from ingredients you most likely have on hand in your refrigerator or pantry, with a few simple additions. Best of all, these recipes can be made ahead if you are planning a weekend get together or they can be thrown together quickly if you want to invite friends over on the fly. Hopefully you will be inspired to host a fun and easy gathering soon – and your guests will be thankful for these delicious treats!
Three Easy-to-Assemble Snacks for Your Next Gathering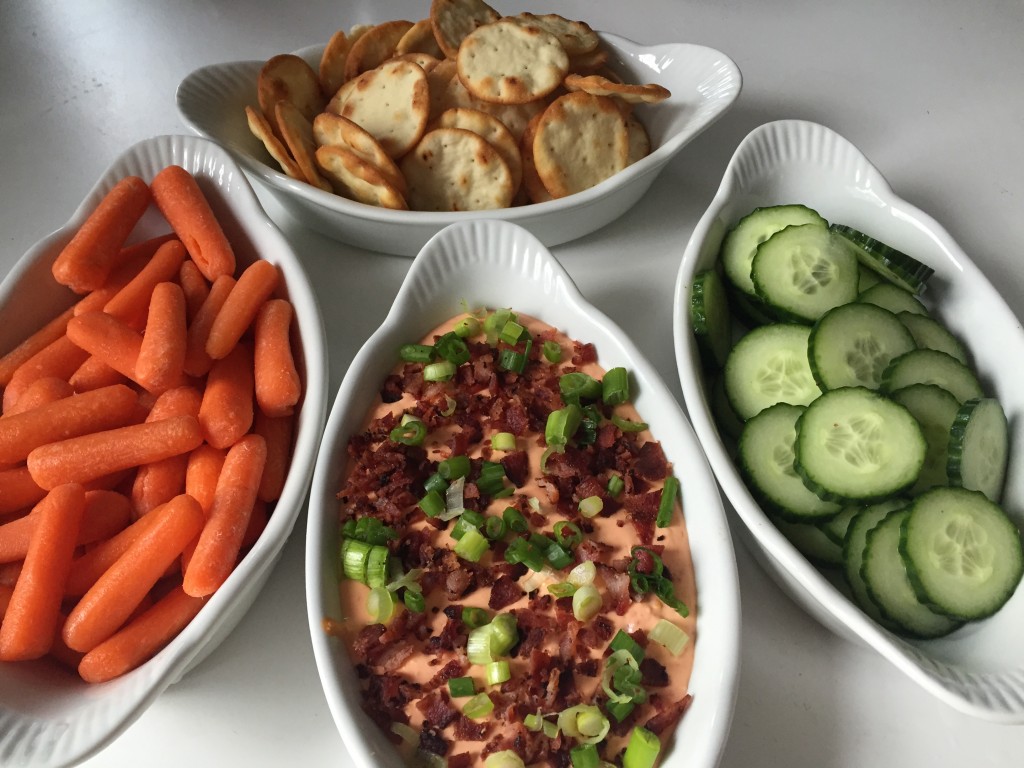 1. Roasted Red Pepper Dip

I always like to gather my ingredients together before I start preparing a recipe to ensure that I have everything. After all ingredients have been accounted for, then go ahead and start chopping your jarred red peppers (usually found in the supermarket aisle by the pickles). After the peppers have been coarsely chopped, start adding your ingredients to a food processor or a blender. I add my wet ingredients first, to make sure everything gets blended evenly.
After blending for about 30 seconds, check to make sure the consistency is smooth, but still thick.
Once you have poured the mixture into a serving bowl, chop your scallions and bacon (the best part!) for your topping. Serve with crackers, sliced cucumbers, or any veggies of your choice. It also tastes amazing spread on a sandwich!
Ingredients

¾ cup shredded colbyjack cheese
4 oz. cream cheese, softened
1/4 cup plain yogurt or sour cream
¼ cup mayonnaise
¼ cup bottled red peppers, diced
2 tsp. Tabasco
1 tsp. lemon juice
Salt to taste
2 pieces thick-sliced bacon, diced
3 scallions (1/2 cup), sliced
Directions
1. Blend all ingredients except bacon and scallions in a food processor until fairly smooth.
2. Chop scallions and saute bacon until crisp; drain. Chop bacon into small pieces and then cover the prepared dip with bacon bits and chopped scallions.
2. Easy Stuffed Mushrooms

This was one of the first "fancy" appetizers that my mom ever served when she was a newlywed back in the late 1960's, and I just served them the other night to rave reviews. This easy classic recipe has definitely stood the test of time!
After washing and drying your mushrooms, remove the stems and set them aside for chopping. Then chop the scallions and mix the chopped stems, melted butter, parmesan cheese and chopped stems together.
Next, use a tablespoon to scoop the mushroom stem, butter, scallion and parmesan cheese mixture into the dried, stemless mushroom caps. Place under the broiler for 3 minutes, and voila! Perfectly easy and delicious stuffed mushrooms!
Ingredients

One package extra large button (or white) mushrooms
1/3 cup shredded parmesan cheese
2 tbsp. butter, melted
1 tbsp. chopped scallions
Directions
1. Remove stems from washed and drained mushrooms, then chop the stems into small pieces.
2. Combine stems, cheese, butter and scallions.
3. Use tablespoon to fill upside down mushroom caps with mixture.
4. Place on cookie sheet and broil for 3 minutes or until golden brown and bubbly. Serve warm.
3. Zesty Artichoke Bites

These tasty little treats are prepared in a mini muffin tin, and they are so delicious that I promise they will not last long. You can double, even triple the recipe and freeze them for future gatherings.
To prepare your mini muffin pans, first spray cooking spray evenly all over the pan. Then sprinkle cornmeal into each muffin section and shake the pan side to side to evenly distribute the cornmeal.
After coarsely chopping your artichoke hearts, sauté them in a hot pan with your chopped onions and chopped garlic for about three minutes. Remove from pan and prepare the remaining ingredients while the veggies are cooling off.
Mix the remaining cornmeal, eggs, cheese, worcestershire sauce, chopped green chiles, and salt and pepper. Once mixed together, then added the sautéed onions, artichokes and garlic to the bowl.
Sprinkle the muffins with some parmesan cheese and place into a 325 degree oven for 14-15 minutes. I like to stick them under the broiler for about 1 minute to make sure they are nice and golden brown too.
Ingredients

1 can artichoke hearts (whole or quartered, either works fine)
1/4 cup chopped onion (I used a red onion for color)
1 clove minced garlic
1 tbsp. butter
1 to 1 1/2 cups shredded colbyjack cheese
3 eggs, slightly beaten
3 tbsp. cornmeal
1 can chopped green chiles
1 tbsp. worcestershire sauce
Salt & pepper to taste
Grated parmesan cheese
Directions
1. Preheat oven to 325. Spray muffin tin(s) with cooking spray and sprinkle with cornmeal. Shake it around to distribute the cornmeal evenly. Set aside.
2. Drain artichokes and chop fine. In a large skillet, add butter, then onion and garlic once the butter starts to melt. Add chopped artichokes and cook for 3 mins.
3. Combine eggs, cheese, 3 tablespoons cornmeal, Worcestershire sauce, chiles, salt and pepper. Once combined, add sautéed artichoke mixture to bowl.
4. Spoon mixture into prepared muffin tin and bake for 12-14 minutes. Feel free to pop these treats under the broiler for a minute so they get nice and golden brown.
Share with friends! If you'd like to make these ahead of time for a future gathering, just let them cool completely and freeze them for up to a month. When you want to serve them, warm them in a 325 degree oven for about 5-7 minutes. I once made over 150 for a holiday party!
This guest post was written by Jennifer McKinney of Cottage Girl.
Which easy appetizer recipe looks the tastiest?
Latest posts by RecipeChatter
(see all)