With layers of chicken, apples, cranberries, blue cheese, and pecans, these Easy Apple Harvest Mason Jar Salads with Cider Vinaigrette are a wholesome and satisfying lunch-on-the-go. Prep ahead and keep salads fresh in your refrigerator for days with this simple technique!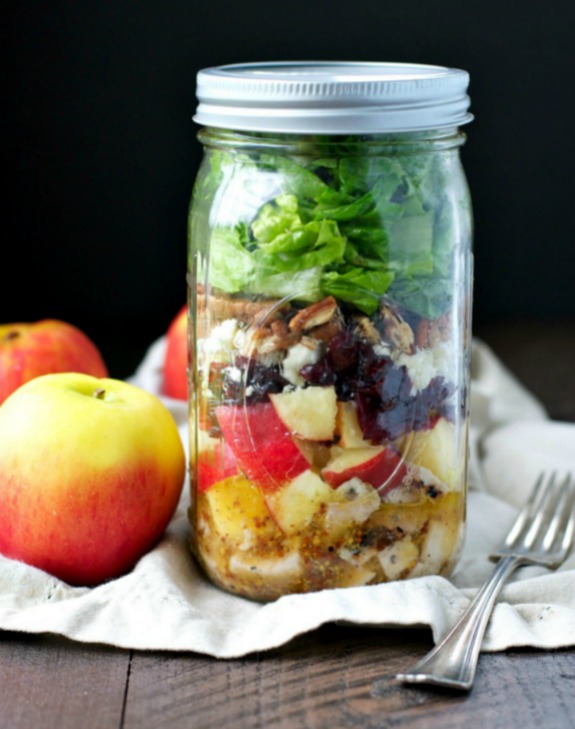 Hi, friends! I'm so glad to be back visiting you from The Seasoned Mom, where I share fresh, easy, and seasonal recipes with my readers! I live in rural Central Virginia, where apple harvest season is a BIG deal. Apples are some of our finest local produce, and tourists come from all over to celebrate at various Harvest Festivals and pick-your-own orchards throughout the season. As a result, I'm never short on apples at this time of year…and trust me…I'm not complaining!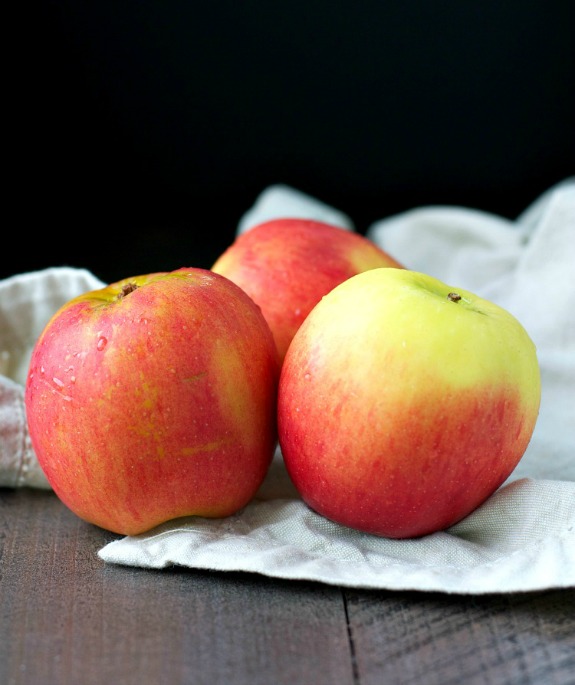 I always make batches of my kids' favorite Slow Cooker Applesauce and my Crock Pot Apple Butter in the fall, but when I'm looking for a nutritious and satisfying lunch option that I can prep for the week ahead, a mason jar salad is my first choice. Once I discovered that I could layer ingredients in a big jar and have a salad (with dressing) ready to go for days, I was hooked. While I love my Chicken Taco Mason Jar Salads and my Spinach and Bacon Mason Jar Salads, this has to be my all-time favorite. It just doesn't get much better than the sweet and savory combination of delicious fall flavors all packed tightly into one neat container!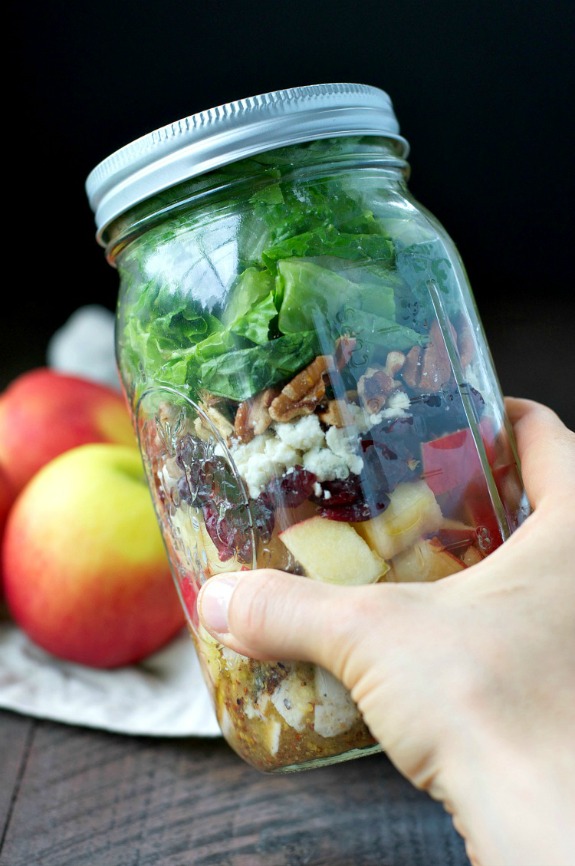 So here's the key: in order to keep everything fresh and not soggy, you need to start with the dressing on the bottom (this Cider Vinaigrette, by the way, is HEAVEN). The "sturdier" toppings go next, such as the chicken and apples. Lettuce or anything more delicate is always on top so that it's not in contact with the dressing. And be sure to really pack your jar TIGHTLY. I cram as much lettuce into the top of the jar as I can at the end (to the point where the lid is practically popping off) so that I'm sure there's no extra air in there. By layering and packing tightly, these salads stay fresh for at least 3 days!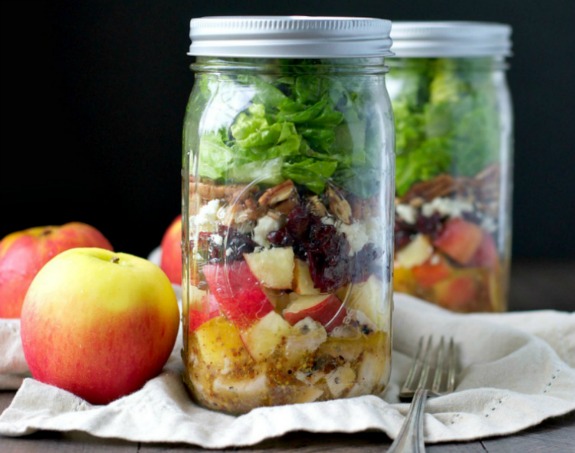 Then, when it's time to enjoy your salad, simply dump the jar onto a plate or into a big bowl. The dressing and toppings will all be on top! Voila! I like to toss everything together at that point so that the dressing coats the rest of the ingredients. It seriously doesn't get any quicker or easier!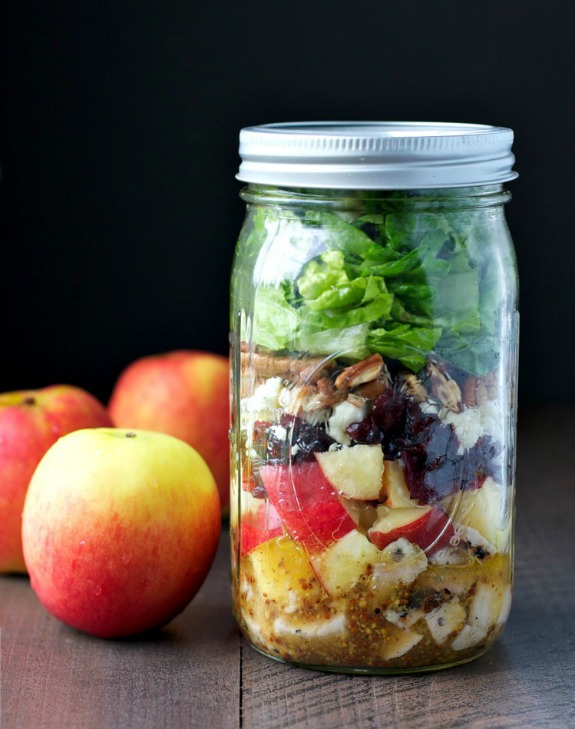 Apple Harvest Mason Jar Salads
Prep: 15 mins
Serves 4
Ingredients:
For the Cider Vinaigrette Dressing:
3 tablespoons extra-virgin olive oil
3 tablespoons apple cider vinegar
1 teaspoon onion powder
4 teaspoons Dijon mustard
4 teaspoons maple syrup
½ teaspoon salt
¼ teaspoon pepper
For the Salads:
4 cups chopped romaine lettuce (or other greens of choice)
8 ounces cooked boneless skinless chicken breasts, diced into bite-sized pieces
2 apples, diced
Juice from ½ of a lemon
1 cup dried cranberries
4 ounces crumbled blue cheese or feta cheese
1 cup pecans, coarsely chopped and toasted
4 (quart-size) mason jars
Instructions:
Whisk together dressing ingredients in a small bowl or measuring cup until completely combined.
Place a few tablespoons of dressing at the bottom of each jar.
Place diced apple in a small bowl and squeeze lemon over the bowl. Toss apple in lemon juice to coat (this will prevent browning).
Divide salad ingredients among the jars, layering in the following: chicken, apple, cranberries, cheese, pecans. Twist on the top to seal your salads and refrigerate up to 3 or 4 days.
When ready to serve, empty containers of the jar onto a large plate or bowl

—

the dressing will be on top! Toss to coat, if desired!
Have you tried a mason jar salad? Let us know about it in the comments below!
Latest posts by Blair Lonergan
(see all)