Hello there! This month, I made two new recipes in the Test Kitchen that were easy to make and tasted – if I do say so myself – delicious! They are remakes of classics: Frito pie and tater tot casserole. You can find both recipes on AllFreeCasseroleRecipes.com. I had a blast creating these recipes and I think you're really going to like them. I mean, who doesn't like Fritos and tater tots? Hey, that's a good idea…Frito Tater Tot Casserole. Maybe that will be my next creation…Anyway, let's get to the recipes!
If you hail from the South, then you most likely know about the Frito Pie. If not, let me explain. A Frito pie is made with three basic ingredients: chili, cheese, and Fritos. Its origin is unknown, but whether it was created by the Frito-Lay company or a Southern mama, we're sure glad it's here.
I decided to add refried beans to my version. I love refried beans in Mexican recipes, so it seemed like a natural fit to me. I also used two layers of Fritos instead of one. One layer goes on the bottom of the casserole and one goes on top. It's called a Frito pie, so having two layers of Fritos seemed like the right thing to do. Because the first layer is underneath the chili and cheese, it's not as crunchy as the top layer. It doesn't come out soggy though, rather the two textures complement each other. Get the recipe for my 4-Ingredient Frito Pie.
Layered Tater Tot Casserole is another super easy recipe. This casserole uses just 5 ingredients, but you get a lot of bang for your buck. Like the Fritos in my Frito Pie, I had two layers of tater tots in this dish. The bottom layer didn't get soggy like it does in some tater tot casseroles because I didn't use a cream sauce. I just added a little milk to the ground beef and vegetable mixture. This meal is definitely easy enough to throw together on a weeknight. As soon as your kids hear "tater tots," they'll come runnin'.
Try my Layered Tater Tot Casserole for dinner this week.
Mason Cash Tear and Share Heart Form Giveaway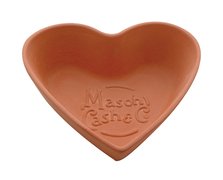 From now until February 9, we are giving away a Mason Cash Tear and Share Heart Form. Simply put, it's a bread pan. Bake bread from scratch or refrigerated rolls in this terracotta pan and marvel at them when they come out of the oven. The heart-shaped pan is so cute and is perfect for a romantic Valentine's Day evening. It's also lovely for a special family dinner. Enter to win one for yourself or a loved one soon. The giveaway ends February 9, 2014.
Read our full review.        Enter the giveaway.
Have you ever had a Frito Pie before?
Latest posts by AllFreeCasseroleRecipes
(see all)