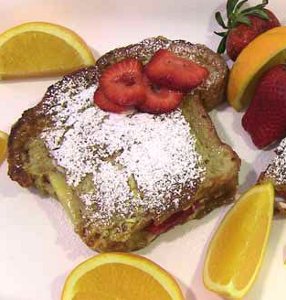 Breakfast and I have a love-hate relationship. I love breakfast when I can make something absolutely delicious without much effort, but oftentimes I'll be in a rush and have to eat something quick like a bowl of cereal. Even when I have the time to make my own favorite breakfast foods, I always stick to the same omelet or pancake recipes and get bored after a while. So, I'm looking to other cultures to add some zest to traditional breakfast foods!
Some of these dishes are prepared authentically as they might be in other cultures, while others are just inspired by the flavors and types of food served around the world. These easy breakfast recipes range from frittatas to scones to breakfast sushi. Are you a huge fan of taquitos? Try stuffing them with some eggs to make them into a breakfast dish. You'll find so many different ways to start your morning right, and you'll learn cooking tips from other cultures at the same time.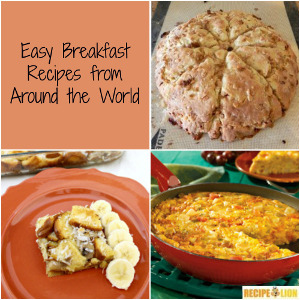 Mexican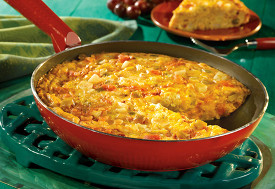 Pico de Gallo Frittata (shown) – Spice up your breakfast with a little Mexican flair and add some Pico de Gallo to a favorite egg dish. Top it off with some Mexican cheese for the best results!
Mexican-Style Omelet – Cherry tomatoes, chorizo, and jalapenos give this omelet crazy amounts of flavor. Start the morning right with a spicy kick.
Morning Fiesta Ole – A delicious variation on a breakfast taco, this fantastic meal has more than enough protein to get you through your day.
Baked Breakfast Taquitos from Real Food by Dad – This dish makes it clear that scrambled eggs and sausage belong inside a tortilla. Since these taquitos are baked instead of fried, they are much healthier than traditional taquitos, but still have the same bold flavor.
European
Double Stuffed French Toast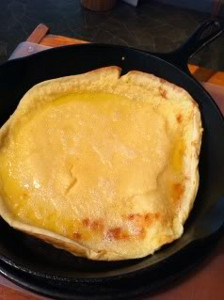 (shown above) – French toast may have been adopted by other cultures, but in France it's still very popular as "pain perdu" (meaning "lost bread"). The French eat their version of French toast as breakfast, snacks, and dessert – maybe we should take a cue from them!
Dutch Baby German Pancake (shown) – A Dutch Baby is a scrumptious, thin pancake that's often topped with fruit or chocolate (I personally recommend apples). Each pancake is very large, so it's a perfect breakfast for sharing.
English Toffee Scones – Do you ever wish you could have an authentic English tea break? These scones are perfect alongside a steaming cup of tea as a little mid-morning or afternoon snack.
Asian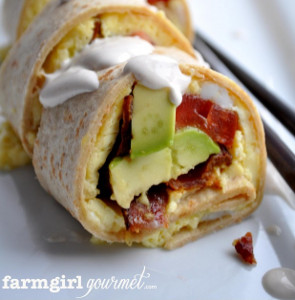 Breakfast Sushi from Farm Girl Gourmet (shown) – The sushi craze has extended to breakfast! This Asian-inspired meal includes avocado, bacon, and egg, so you know it will be delicious and chock full of protein.
Chinese Tomato and Eggs from Marriage and Laughter – This traditional Chinese breakfast dish is super easy and perfect for kids and adults alike.
Island
Hawaiian Overnight French Toast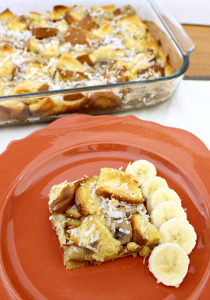 (shown) – Even though Hawaii is part of the US,  it has a cuisine that's all its own. Traditional Hawaiian flavors like banana and coconut make this French toast one of the most mouth-watering breakfast recipes on the list.
Filipino Omelet from Kawaling Pinoy – This omelet includes a surprising secret ingredient. Okay, okay, I'll tell you what it is! The secret ingredient is eggplant – it's an ingenious combination of flavors that's a perfect start to your day.
---
Bonus! Breakfast Corn Dogs
Looking for something a little more American? Check out our yummy recipe for breakfast corn dogs. Your kids will love it!

---
What is your favorite international breakfast food? How did you discover it?
Latest posts by RecipeLion
(see all)