Okay, okay, I know "dump cake" may not exactly be the most glamorous or mouthwatering name for a dessert, but it pretty aptly describes what this super-easy cake is all about. Before last week I had never made a dump cake recipe before, but I'd read all about them and how great they are. All of my food blogger friends had told me about their initial mixed feelings about dump cakes… using a boxed cake mix felt like a cop-out for many of them … but most of them eventually came around and saw how ridiculously easy these cakes are, and how delicious they can be. So, I thought I'd give it a whirl too. I decided to make this recipe for The Best Easy Dump Cake Ever because, come on, the name sure does promise a lot.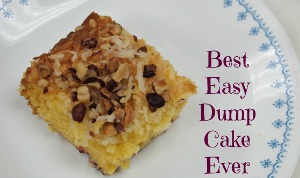 Skimming through the ingredients list, everything looked pretty straightforward and do-able. Just six basic ingredients, all of which I found at my local grocery store. The instructions, too, were very basic; just five simple steps were needed to create the layers of this yummy dessert. I've baked a lot of cakes in my life and this was by and far one of the easiest ever. No wonder they call it the Best Easy Dump Cake Ever!
I took some pictures as I went about making my cake so you could see how it all comes together.  First, the ingredients. This is all you need: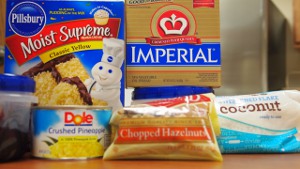 The Best Easy Dump Cake Ever
Ingredients:
1 can cherry pie filling
1 can (8 oz.) crushed pineapple
1 package yellow cake mix
2 sticks butter
1 can coconut
1 cup nuts
How To:
Spread pie filling in bottom of a 9×13 inch dish.
Spread pineapple on cherries.
Preheat oven to 325 degrees F.
Prepare cake mix batter and pour over on top. Melt butter and pour over cake mix.
Top with coconut and nuts. Bake for 1 hour.
Here's what it looks like right before going into the oven: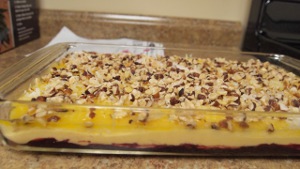 And here's how it looks all golden brown and delicious: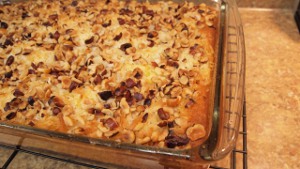 Then it's time to slice and serve… AKA the best part!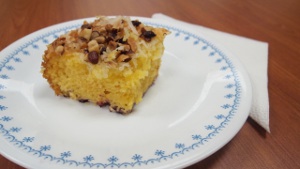 This cake had a great tropical flavor to it. You could really taste the coconut and nuts on top, so if you aren't a fan of either of those, definitely leave them out (they're both optional parts of the recipe, so feel free to be creative and swap in your own toppings of choice!). If you really like pineapple, I would suggest using a larger can of crushed pineapple since it was hard to taste that layer buried under everything else in this cake. Just my two cents though!  The best part about simple dump cake recipes like this one is that you can experiment, adding and subtracting ingredients, modifying quantities, etc. until you get the recipe just right for you!
Looking for more easy dump cake recipes to try out?  There's a whole collection of dump and go dessert ideas on RecipeLion.com. Find all 16 recipes here.
Have you ever made a dump cake before? What kind did you make?
Latest posts by RecipeLion
(see all)