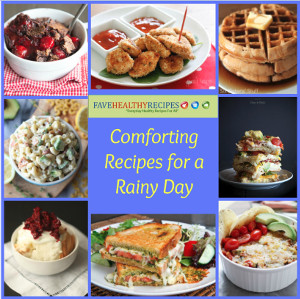 Even though we're super excited for spring, we're expected to see some rainy days this month. After all, April showers bring May flowers. Looking for something fun to do while you're cooped up inside? You're in luck. We've got 12 delicious, easy healthy recipes for you to whip up in the kitchen.
Even though it's springtime, those rainy days can get pretty chilly. With that being said, we've provided comfort food recipes to warm you up. No matter what time of day it is, at least one of these recipes should curb your appetite without packing on any extra pounds.
We chose to share these specific recipes, because most of their main ingredients can be found in your own kitchen, which means that you don't have to risk driving to the grocery store in the pouring rain!
But the best part about these comfort food recipes? While you're waiting for these delicious dishes to cook in the oven, you can finally finish that book you're reading, catch up on your favorite television show, or go for a run on your treadmill. That should add a little bit of sunshine to a gloomy, rainy day!
Easy Healthy Recipes for Breakfast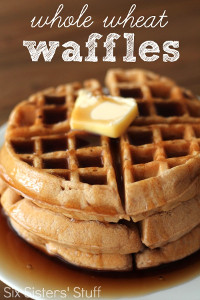 Homemade Whole Wheat Waffles (Pictured above): Enjoy one of your favorite breakfast treats without feeling guilty! These waffles provide the same comforting, satisfying taste as regular waffles, but they're made with more wholesome ingredients.
California Avocado Breakfast Casserole: This hearty breakfast from Dine & Dish is savory, filling and packed with veggies.
Classic Chocolate Chip Pancakes: When waking up on a Sunday morning, it's nice to treat yourself to a delicious, no-fuss breakfast. These pancakes are absolutely perfect for that occasion.
Comfort Food Recipes for Lunch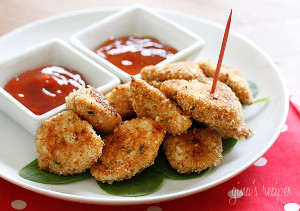 Healthy Baked Chicken Nuggets (Pictured above): Ever wish you could indulge in some chicken nuggets without worrying about the calories? Now you can!
Bacon & Avocado Macaroni Salad: If you can't go outside for a picnic, take the picnic indoors with this flavorful deli salad.
Caprese Grilled Cheese Sandwich: This healthy recipe gives your average grilled cheese sandwich a run for its money, due to the addition of fresh veggies and basil pesto sauce.
Delicious Dishes for Dinner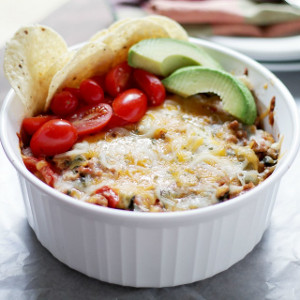 Creamy Chicken Broccoli Casserole: This dish is so warm and comforting, it tastes just like it came from your mother's kitchen.
Skinny Taco Casserole (Pictured above): This healthy casserole is simple to prepare and guaranteed to curb your appetite.
Easy Spinach & Italian Sausage Orzo: This comforting dinner from Canuck Cuisine is savory, filling and packed with your favorite veggies.
Tasty Treats for Dessert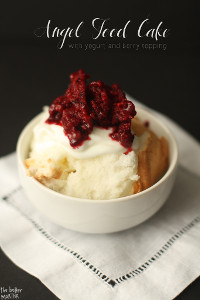 3-Ingredient Cherry Chocolate Dump Cake: This super simple dessert is comfort food at its finest!
Skinny Rice Krispy Treats: These treats taste so much better than the real thing, and they use super simple ingredient swaps to make them more nutritious too!
Heavenly Angel Food Cake with Berries (Pictured above):This appropriately-named dish tastes so heavenly that we're convinced the angels brought it down to Earth.
Which easy healthy recipes are you excited to try?
Latest posts by FaveHealthyRecipes
(see all)