In our third and final Sur la Table class in a three-part series on "How To Cook Everything," I learned all about preparing different types of fish, with my fellow editor, Rachel, from RecipeLion.com. In our first class we learned all about cooking grains and veggies, and in our second class we learned about preparing proteins such as chicken and pork. As the editor of AllFreeSlowCookerRecipes.com, I don't get to talk about fish recipes quite as frequently as Rachel might, but there are surprising and tasty ways to cook fish in your slow cooker, such as our recipes for All-Day Shrimp And Rice Casserole and Slow Cooker Salmon with Cilantro and Lime. For those who are a little afraid of fish, we recommend our recipe for Slow Cooker Tilapia with Garlic Cheese Sauce. We even have some slow cooker versions of ratatouille on AllFreeSlowCookerRecipes.com.
Speaking of tilapia, that's the fish included in the ratatouille recipe I'm going to share from our class. Tilapia is a great type of fish for fish-eating beginners, as it has a mild flavor (not "fishy") and it's easy to prepare. I was always intimidated by the idea of making ratatouille, but after our class, I've realized it can be quite simple! Not to mention, the recipe we used for Steamed Fish with Ratatouille from Mark Bittman's How To Cook Everything: The Basics, couldn't be easier–and it's a bit healthier than many ratatouille recipes you'll find, which can be loaded with butter. After you read about this recipe, be sure to scroll all the way down for more tips on buying and preparing fish.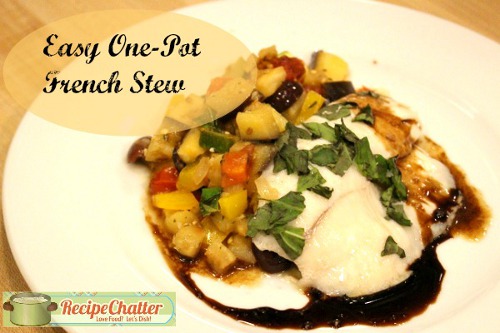 Steamed Fish with Ratatouille
*Recipe Courtesy of How To Cook Everything: The Basics, by Mark Bittman
Yield: 4 servings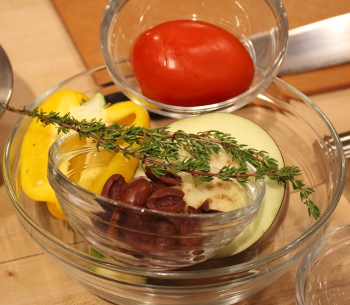 Ingredients:
1 large or 2 medium zucchini
1 medium or 2 small eggplant
1 medium bell pepper, cored
2 medium or 3 small tomatoes, cored
3 tablespoons olive oil or more as needed
1 tablespoon garlic, minced
1 large onion, cut into 1/2-inch dice
Kosher salt and freshly ground black pepper
1 tablespoon fresh thyme leaves
1/2 cup Nicoise or kalamata olives, pitted (optional)
4 thick fish fillets or steaks (about 1-1/2 pounds), such as Cod, Tilapia, or Sole
1/2 cup fresh basil leaves, roughly chopped
Instructions:
1. Trim and cut the zucchini and eggplant into 1-inch chunks.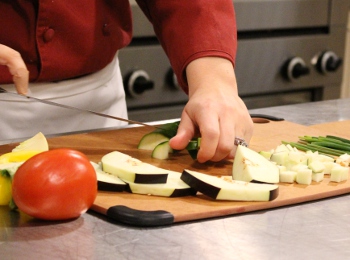 2. Cut the pepper into 1/2-inch strips.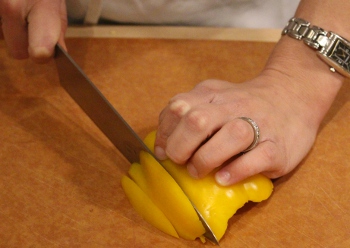 3. Roughly chop the tomatoes, reserving their juice.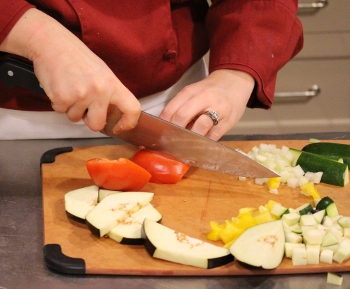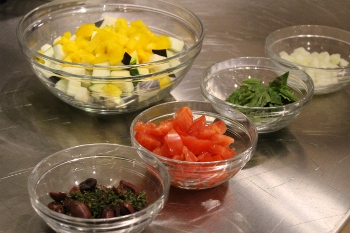 4. Put 2 tablespoons of the oil in a large skillet over medium-high heat and immediately add the garlic.
5. When it begins to sizzle, add the onion, and sprinkle with salt and pepper.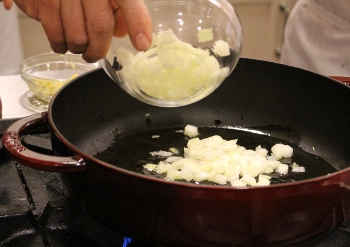 6. Cook, stirring occasionally, until the onion begins to soften, 3 to 5 minutes.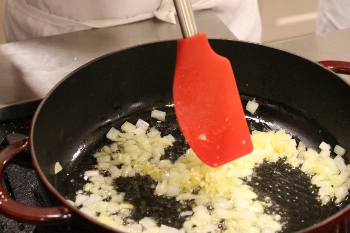 7. Add the zucchini, eggplant, bell pepper, and another sprinkle of salt and pepper.
8. Lower the heat a bit to keep the vegetables from burning and cook, stirring occasionally, until the eggplant is fairly soft, another 10 to 15 minutes.
9. Add the tomatoes and their juice, the thyme, and the olives–if you're using them–and cook, stirring occasionally, until the tomatoes begin to break down, another 5 to 10 minutes.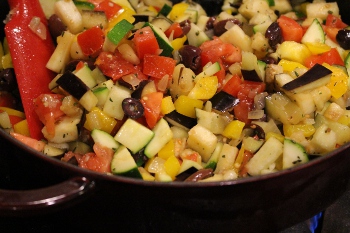 10. Taste and adjust the seasoning.
11. Sprinkle the fish with salt and pepper and lay it on top of the vegetables.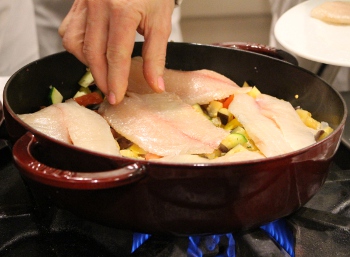 12. Adjust the heat so the mixture simmers.
13. Cover and cook until the fish is opaque throughout and a paring knife inserted into the fish at its thickest point meets little resistance. This will take anywhere from 5 to 12 minutes, depending on the thickness of the fish.
14. Transfer the fish to a platter, and then stir the basil into the vegetables.
15. Spoon the vegetables around the fish; drizzle everything with the remaining 1 tablespoon olive oil (plus a little more if you like) and serve. Also, drizzle your plate with balsamic if desired.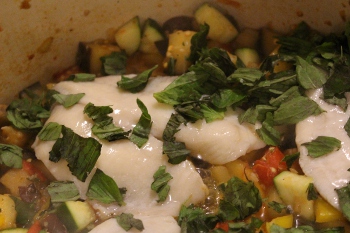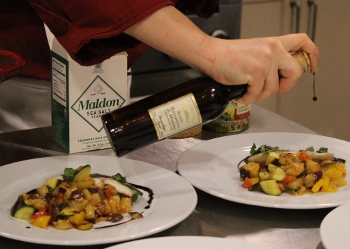 And, you're done! Enjoy!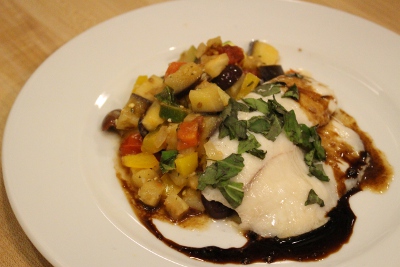 Tips for this Steamed Fish with Ratatouille Recipe:
Be careful not to cook swordfish and tuna too long when steaming; other fish won't dry out as quickly.
Giving slower-cooking foods a head start is a valuable technique you can try with chicken breasts and other quick-cooking cuts of meat.
Recipe Variations:
Steam Fish with Leeks:
Skip the zucchini, eggplant, pepper, tomatoes, thyme, and olives. Trim and slice 1-1/2 pounds leeks (white and light green parts) and rinse them in a colander to remove all the grit. Once the oil is shimmering in the skillet, add the leeks to the oil, stirring occasionally, until they're tender and begin to turn golden, 5 to 10 minutes. Add 1/2 cup white wine or water and bring to a gentle bubble. Steam fish on top of leeks. Transfer to a serving plate and serve immediately.
Steamed Fish with Bok Choy:
Skip the zucchini, eggplant, pepper, tomatoes, thyme, and olives. Once the oil is shimmering in the skillet, add about 1 pound roughly chopped bok choy to the oil, 1/4 cup soy sauce, and 1/2 cup water to the skillet. Cook, stirring until the greens begin to wilt, 3 to 5 minutes. Steam fish on top of the bok choy. Transfer to a serving plate and serve immediately.
General Fish Tips and Tricks:
Steaming is a great way to cook flaky white fish, such as white fish, butter fish, cod, and tilapia.
White fish varieties are the only fish you could all the way through, as opposed to e.g. salmon. Fatty fish, such as salmon, can be cooked medium rare.
When buying fish at the grocery, consider the following:
You want e.g. white fish to be white, not grey. Pay attention to coloring.
Make sure the fish is not slimy; it should feel smooth and slick.
Look at a whole fish (not just filets) to assess its condition.
Make sure the fish's eyes are clear, not slightly bulging or sunken in, and not foggy or blood-shot.
Ask to smell and touch the fish–should not smell "fishy."
Buy fish from a grocery at which you feel comfortable asking for the skin or scales to be removed; ask for desired portions to be cut.
If you live in the Midwest, consider buying frozen seafood, as it is frozen fresh (it has a long way to travel from the coasts).
When you bring your fish home, store it over crushed ice (you can ask your grocer for crushed ice); or you can freeze your fish right away. If you do freeze your fish, thaw it in your refrigerator over night or run cold water over it (make sure the fish is tightly sealed when freezing).
When freezing fish, wrap it in parchment paper and then in plastic, and then in an air-tight bag (such as a Ziplock bag). It will last about two months in your freezer.
What's your favorite type of fish to prepare at home?
Latest posts by AllFreeSlowCookerRecipes
(see all)