It's no secret that the editors of AllFreeCopycatRecipes.com love fast food. From Arby's to Zupa's, we love it all. What we don't like, however, is the not-so-fast, fast food wait time. Because we hate waiting for our food order to go from our lips to, well, our lips, we were ecstatic to hear that one of our favorite restaurants is rolling out a new ordering system that will eliminate the wait. That's right, Panera is has come out with an online ordering system called Panera 2.0 that allows you to place your order using your smartphone and have it waiting for you when you arrive at the restaurant. We think that this new ordering system could change fast food forever, and we couldn't be happier. In honor of this exciting new fast food development, we wanted to round up some of our favorite Panera copycat recipes. Make any of these amazing Panera copycat recipes and help us celebrate the evolution of one of our favorite fast food restaurants.
Panera Bread and Bagels
If you go to Panera and ask for an apple instead of a baguette as your side, stop reading this post now. You are not worthy. Panera has the most amazing baguettes, bagels, and bread bowls. Trading in your baguette for an apple is simply sacrilegious. With these easy homemade bread recipes you can make your favorite Panera Bread, bread whenever the craving hits.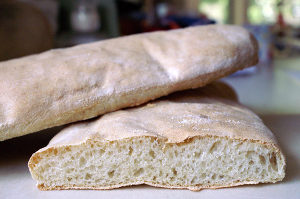 Copycat Panera Asiago Cheese Bagels
Copycat Panera Bread Bowls
Copycat Panera Pumpkin Spice Bagel
Homemade Panera Bagels
Homemade Panera Ciabatta Bread (shown left)
Homemade Panera Cobblestone Muffins
Panera Copycat Pumpkin Bread Bowls
Panera Soups, Salads, and Sandwiches
If you are looking for a healthy, hearty lunch or dinner then these easy-to-make Panera copycat recipes are just what you need. Each recipe is absolutely delicious, and will keep you full and focused until your next meal.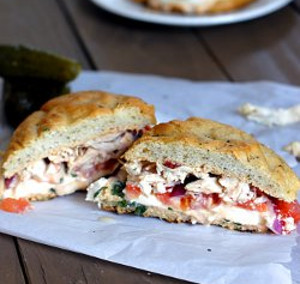 Copycat Panera Asian Sesame Chicken Salad
Copycat Panera Baked Potato Soup
Copycat Panera Bistro French Onion Soup
Copycat Panera Broccoli and Cheese Soup
Copycat Panera Tex Mex BLT
Copycat Panera Cream of Chicken and Wild Rice Soup
Copycat Panera Frontega Chicken Panini (shown left)
Copycat Panera Strawberry and Poppy Seed Salad
Copycat Panera Mediterranean Veggie Sandwich with Pesto Hummus
Homemade Panera Butternut Squash Soup
Panera Copycat Creamy Tomato Soup
Homemade Panera Orchard Harvest Salad
To read more on this amazing Panera product, check out this Forbes Magazine article.
---
Speaking of great sandwiches, did you know that it is grilled cheese month? Check out these 6 Gourmet Grilled Cheese Recipes for some amazing grilled cheese recipes!
---
What's the first thing your going to order on Panera 2.0? I've always been a sucker for Panera's Broccoli Cheddar Soup.
Latest posts by AllFreeCopycatRecipes
(see all)