There's never a bad time to have a potato. When you wake up in the morning, you've got hash browns, potato pancakes, and tater tots. When the lunch bell rings, you've got French fries or potato soup to fill you up. When dinner rolls around, you've got mashed or scalloped potatoes to go on the side of just about everything. We bet you've even tried a few potato desserts like Potato Chip Fudge. Potatoes are a mainstay all day long, and we want you to help us celebrate this versatile veggie by trying one of these fantastic potato recipes.
Breakfast Potatoes
When breakfast time rolls around, we know that potatoes are going to give us the energy we need to get started with our day.
| | |
| --- | --- |
| | |
| Classic Potato Frittata – Frittatas typically seem like an intimidating endeavor, but we bet you'll be pleased with how easy it is to make this breakfast potato recipe. | Loaded Layered Hash Browns – The convenience of frozen hash browns makes breakfast a breeze, especially if you're trying to cook up some eggs and bacon at the same time. |
Lunch Potatoes
Pack up a few potatoes for lunch, and we know you'll stay full all day long. That's the beauty of a good potato recipe—it's a budget-friendly way to have a filling meal!
| | |
| --- | --- |
| | |
| Sizzling Home Fries – Whether you're having yourself a hearty breakfast or you need a side for your pulled pork sandwich, these Sizzling Home Fries will be gone before you know it! | Loaded Potato Bites – These handy potato bites are wonderful for transporting to and from work or school. They're easy to throw into a plastic container and reheat the next day—perfect for lunch! |
Dinner Potatoes
Whether you're getting ready for a holiday celebration or you're just trying to feed the family during the week, these easy potato recipes are a surefire way to bring everyone together.
| | |
| --- | --- |
| | |
| Easy Au Gratin Potatoes – Cheese and potatoes in a casserole. What more can you ask for, right? Whether you're having meatloaf, chicken, or pork chops, you can bet these cheesy potatoes will be gone in record time. | Award Winning Mashed Potatoes – This easy, homestyle dish is a classic at the dinner table, especially during Thanksgiving and Christmas. This made-from-scratch mashed potato recipe is a must have every time, so don't miss out on this traditional recipe. |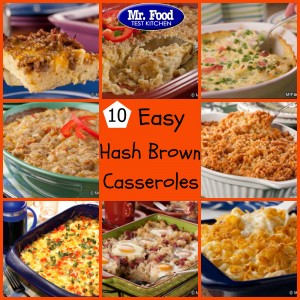 Hash Brown Casseroles: 10 Easy Potato Casserole Recipes – For those who have a particular affinity for hash browns, we've got a fantastic recipe collection for you. Whether you're looking for an easy breakfast casserole recipe or the quintessential potluck dish, these 10 hash brown casseroles are keepers.
Dessert Potatoes
Yup, you read that right. Potatoes aren't just for savory purposes—we've found a few ways to work 'em into our dessert time too!
| | |
| --- | --- |
| | |
| Chocolate Potato Cookies – That's right; we've combined chocolate and potatoes, and boy, is the result heavenly! Bring a batch of these along to your next book club meeting, and we can bet you'll be hearing the raves from your friends. | Potato Chip Fudge – Potato chips and pretzels create that sweet 'n' salty that keeps us coming back for more (and more and more!). We love having a few pieces around at work for a sweet treat throughout the day. |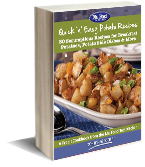 Be sure to check out more of our favorite potato recipes in our free eCookbook, Quick & Easy Potato Recipes: 30 Scrumptious Recipes for Breakfast Potatoes, Potato Side Dishes & More.
What's your favorite way to cook with potatoes? Let us know in the comments below!
Latest posts by MrFoodTestKitchen
(see all)