Quiches are a severely underrated food. They have a bad reputation as being boring, bland and unsatisfying. In fact, there are even jokes about "real" men not eating quiche.
Lately, though, quiches have been making a comeback. Crustless quiches, mini quiches, you name it. What better way to celebrate their rising popularity than with a giveaway? AllFreeCasseroleRecipes and Harold Import Co. have teamed up to offer one lucky winner an awesome 8-in. quiche dish.
From now until March 30th, you can enter to win a beautiful professional-grade porcelain quiche dish. Yes, quiche dishes can be beautiful. This is no ordinary quiche dish, either. What makes this dish better than any others, you ask? You'll need to read the full review to find out.
Once you enter the giveaway, you'll probably want to make a quiche for good luck. We've developed a brand new test kitchen recipe just for the occasion!
However, this Chocolate Crescent Roll "Quiche" is not really a quiche. It's a dessert! And you thought you could only make quiches in quiche dishes…
We've also included some other deliciously savory quiche recipes such as the Cowboy Quiche, the Easy Taco Quiche and more.
Chocolate Crescent Roll "Quiche"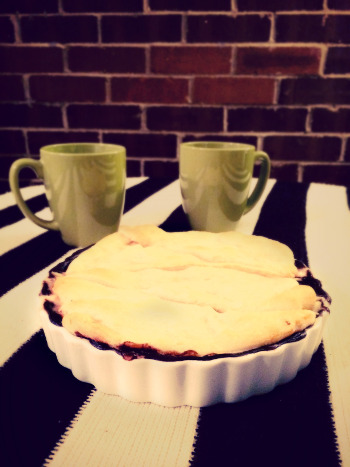 Ingredients
1 (8-ounce) package crescent rolls
1 cup instant chocolate pudding
3/4 cup cream cheese (about 3/4 of an 8 oz. package)
1 1/2 teaspoons sugar
3/4 cup white chocolate chips
Whipped cream (optional)
Directions
1. Preheat oven to 350 degrees F.
2. Prepare instant chocolate pudding according to package directions and set aside.
3. Line the bottom of an 8-in. quiche dish with 4 pieces of crescent roll dough, molding it to fit. Place dish on cookie sheet. Bake for 6 minutes or until dough gets more firm and very lightly browned.
4. Meanwhile, combine sugar and cream cheese in a mixing bowl.
5. Remove dish from oven and let cool for 10 to 15 minutes. Coat dough with cream cheese mixture.
6. Pour chocolate pudding over cream cheese layer and smooth out evenly. Sprinkle white chocolate chips over pudding.
7. Carefully place remaining pieces of crescent roll dough on top. Bake for 12 more minutes or until top is lightly browned.
8. Let set overnight in refrigerator. Serve cold and garnish with whipped cream, if desired.
BONUS! If you like easy quiche recipes, here are some savory quiches for you to try:
1. Cowboy Quiche
2. Easy Taco Quiche
3. Spinach Quiche with Bacon
4. Mini Quiche Bites from Poet in the Pantry
5. Crustless Quiches from The Cafe Sucre Farine
 What other quiche variations have you seen?
Latest posts by AllFreeCasseroleRecipes
(see all)