In the past few years, quinoa has become a lot more common to find on the shelves of your local grocery store. This super food has really grown in popularity, due to its high nutritional value and delicious, nutty taste. It's also gluten-free, kosher-friendly and has the highest protein content of all the whole grains.
If you're intrigued by the quinoa craze, FaveHealthyRecipes.com has provided six easy quinoa recipes for you to try. With just a couple ingredient swaps, you get to enjoy the same comforting, delicious flavors as some of your favorite foods in a guilt-free way. They taste so good that you won't even realize they're nutritious!
It can be a little scary and intimidating trying new things, which is why some of us might be hesitant to try quinoa. But after trying these dishes and realizing how tasty they are, you'll see that there's really nothing to be scared about!
6 Easy Quinoa Recipes
Cheesy Broccoli Casserole: The name sounds sinful, but this casserole is actually very nutritious! Made with quinoa, broccoli, spinach and fresh Mozzarella cheese, this meal is guaranteed to fill you up without packing on extra pounds.
Chipotle Copycat "Burrito Bowl": Do you wish there was a way to enjoy the zesty flavor of a Chipotle burrito bowl, without consuming so many calories? If so, then this dish is the answer to your dreams.
Quinoa Mac and Cheese: Quinoa is a replacement for noodles in this dish, but this meal still tastes just as creamy, cheesy and comforting as original mac and cheese. The only difference is that you can eat this meal as often as you'd like without feeling guilty!
Chocolate Quinoa Cream Cake: This recipe from Mel's Kitchen Cafe is made with a quinoa base and fluffy whipped cream, and is one of the richest cakes you'll ever taste.
No-Bake Peanut Butter Bars: These crispy peanut butter bars are easy to prepare and make an excellent snack to enjoy in the middle of the day.
Chocolate Hazelnut Tart: Are you hosting a party and trying to find a dessert that will impress your guests? This sweet, crunchy and delicious tart from Cooking Quinoa is perfect for that occasion.
Win a Free Copy of The Secret to Skinny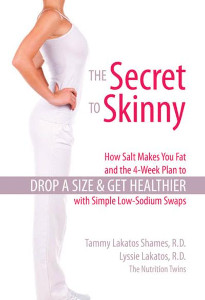 These easy quinoa recipes mentioned above are perfect meals to prepare if you're trying to watch your figure. If you're looking for more helpful diet tips, FaveHealthyRecipes.com is giving away a free copy of The Secret to Skinny by Tammy Lakatos Shames and Lyssie Lakatos.
According to this helpful guidebook, eliminating salt from your diet can help you drop at least one dress size. The Secret to Skinny provides a four-week plan to help you accomplish that, which include 14 days of menu plans, ways to trick your taste buds to crave less salt and simple low-sodium ingredient swaps.
The deadline to enter this contest is Sunday, April 6, 2014. Enter for your chance to win today.
Which one of these easy quinoa recipes are you most excited about?
Latest posts by FaveHealthyRecipes
(see all)