Many Russian foods are great winter comfort foods. It's COLD in Russia–they've got to warm up somehow! What better time to explore Russian fare, than with the arrival of the 2014 Winter Olympics in Sochi? The Sochi Olympics are a fine excuse to explore Russian food. Whether you're an old hat at preparing Russian food, or you've never dipped your fork into a Russian dish, there are so many tasty and easy Russian food recipes!
We've got a sampling of delicious, quick and easy Russian recipes to try. Make these delicious Russian foods for your Sochi Olympics party, or mix it up and serve up some Russian food for a weeknight meal.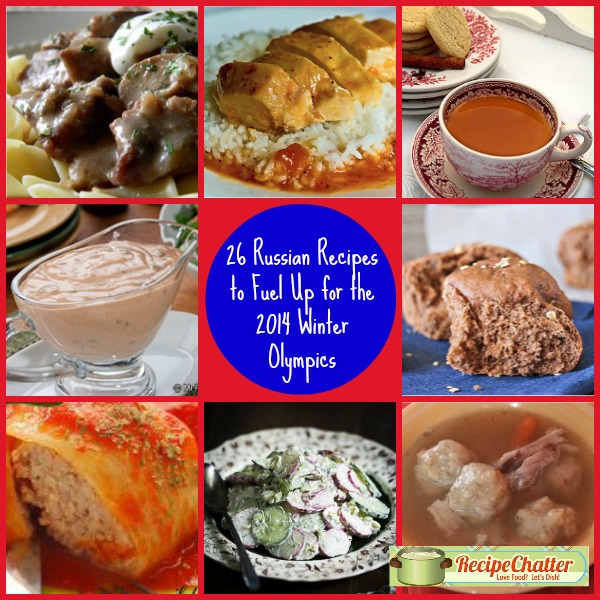 Quick and Easy Russian Appetizers:
Aunt Ina's Beet Borscht – (shown above, left) This borscht recipe won't warm you up because it's eaten cold, but it's still mighty tasty! Sour cream gives this sweet and tangy soup a creamy balance.
Slow Cooker Matzo Ball Soup – (shown above, right) Whether you're catching a cold, or just need a warm-up dish on a bitter cold February night, a bowl of matzo ball soup will surely do the trick.
Slow Cooker Black Bread – (shown above, left) This is a creative slow cooker bread recipe, and it's mighty tasty! Oats sprinkled on top give this bread the perfect finish.
Flo's Russian Dressing – (shown above, right) Make homemade Russian dressing with this easy-to-follow recipe. Use it to spread on sandwiches or over a salad. It's sweet, tangy, and so tasty!
Authentic Russian Recipes for Main Dishes & Sides:
Thrifty Chicken Stroganoff – (shown above, left) If you're watching your budget, swap in chicken for beef when making stroganoff. It's just as tasty!
Sticky Russian Chicken – (shown above, right)  Apricot preserves, Russian salad dressing and onion give this chicken its flavor.
Reuben Casserole – (shown above, left) Made with corned beef, sauerkraut, and other classic Reuben ingredients, this casserole is a fun twist to the sandwich.
9 Beef Stroganoff Slow Cooker Recipes – Get 9 variations on the classic recipe for beef stroganoff. You can make them all in your slow cooker!
Cheese Blintzes – (shown above, left) This recipe hails from a blog called The Shiksa in the Kitchen. Cheese blintzes can be enjoyed with any fruit topping. Sour cream is also a great add-on.
All Day Stuffed Cabbage Rolls for Six – (shown above, right) These classic cabbage rolls are stuffed with ground beef, rice, tomato sauce, and seasoning.
Russian Olivier Salad – (shown above, left) This recipe comes from a blog called Everyday Russian Food. This classic salad is a mish-mosh of so many tasty ingredients, such as apples, potatoes, eggs, mayo, bologna, pickles, onions, and more.
Creamy Dilled Cucumber Salad – (shown above, center) A refreshing and creamy side for any occasion or potluck.
Russian Cucumber & Radish Salad – (shown above, right) Sweet and savory and also creamy, this is a tasty deli salad.
Easy Russian Dessert Recipes & Drinks:
Spiced Russian Tea – (shown above, left) Black tea is steeped in boiling water before being combined with a simple syrup made from water, sugar, cinnamon, clove, orange juice, and lemon juice.
White Russian with Peppermint – (shown above, center) Peppermint schnapps adds a mild mintyness to the popular crowd-pleaser.
Candy Infused Vodka – (shown above, right) Flavored vodkas are perfect when making your own mixed drinks, or if you're just looking for a sweet drink at the end of the night.
Russian Tea Cakes (same as Mexican Wedding Cookies) – (shown above, left) Sugar, ground cinnamon, and vanilla extract combine to create a subtle sweetness that isn't too overpowering.
Grandma's Favorite Baked Apples – (shown above, right) This baked apple recipe involves placing 5-6 apple halves in a sugar and flour syrup. After being in the oven for a while, you add a marshmallow on top and bake until the marshmallow is perfectly golden.
What's your favorite Russian-style dish?
Latest posts by AllFreeSlowCookerRecipes
(see all)