Many of us assume mastery over own kitchens, but it never hurts to go back to the basics.  The editors at Prime Publishing LLC obsess over food and cooking for a living, but that doesn't mean we can't use a kitchen brush-up once in a while. While I spend much of my time thinking about slow cooker recipes — as I'm the editor of AllFreeSlowCookerRecipes.com –there's more that goes into a meal than what fits in a slow cooker! As such, I'm attending a three-part cooking basics class with Rachel, one of our editors at RecipeLion.com, to help translate some of the basics for your home kitchen.
Rachel and I are taking a class called "How to Cook Everything: The Basic Series" at a nearby Sur La Table, a national kitchenware retail chain. The three-part class is based on Mark Bittman's cookbook, How to Cook Everything: The Basics. Bittman writes for the The New York Times' Opinion Section as well as for The New York Times' Magazine, and has authored more than a dozen cookbooks.
In our first class, "Session One; Grains & More," Chef Alison Honiotes reviewed recipes for three types of grains: quinoa, rice, and polenta. And, she also began the class with the first dinner course–salad! While it's easy enough to go to the grocery and buy a store-bought salad dressing, there's nothing like a homemade salad dressing to top off your salad. Honiotes showed us how to prepare several variations on a simple salad dressing recipe, and also showed us an easy roasted peppers recipe, both are from Bittman's cookbook. Roasted bell peppers can be eaten in a number of ways: You can garnish you salad with roasted peppers, add them to a sandwich, or even top your favorite chicken dish or steak with fragrant roasted peppers.
How to Make the Perfect Vinaigrette: Simple Salad Dressing Recipes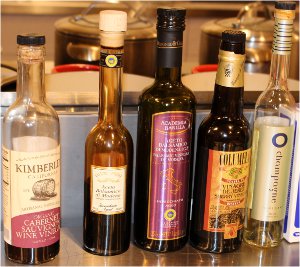 We learned one basic vinaigrette recipe that can be used incorporating different types of vinegars. For a deeper and slightly sweeter flavor, it's best to used red wine or balsamic vinegar. For a lighter dressing that's less sweet, you might opt for a champagne vinaigrette. Honiotes also discussed aged balsamic vinegar (shown above, center). She explained that the longer a vinegar ages, the thicker and sweeter it gets. Aged balsamic vinegar is expensive and very sweet. It should not be used for a salad dressing; rather one should, for example, garnish a cheese plate with a few droplets of it. Aged balsamic can also be used as a glaze for chicken or fish, Honiotes said.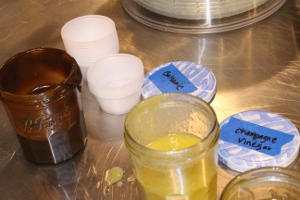 Rachel and I tackled making a vinaigrette using champagne vinegar. The proportions for how to make the below recipe are the same, no matter the vinegar you choose (excluding the aged vinegar).
How to Make Salad Dressing: Vinaigrette in a Jar Recipe
Yield:
About 1-1/2 cups (10 to 12 servings)
Ingredients:
1 cup olive oil
1/2 cup any wine vinegar or balsamic vinegar (or more, to taste)
2 teaspoons Dijon-style mustard
Kosher salt and freshly ground black pepper
Instructions:
1. Put the oil, vinegar and mustard in a small glass jar along with a pinch each of salt and pepper. (If you want to add any extra ingredients, now is the time; see the Variations.)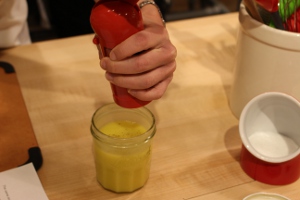 Add a pinch of pepper to your dressing ingredients.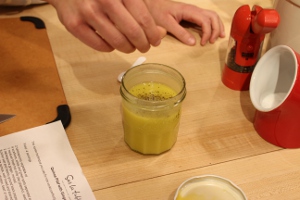 Add a pinch of salt to your dressing ingredients.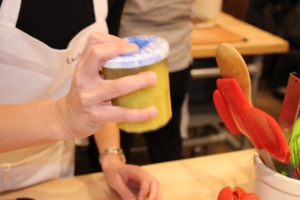 2. Screw on the top of the jar and shake until the dressing becomes thick and creamy.
3. Taste and adjust the seasoning, adding small sprinkles of salt and pepper if desired. If you want more vinegar, add it 1 teaspoon at a time until the balance tastes right to you.
4. Shake the jar again and serve right away or refrigerate for up to 3 days; shake well before every use.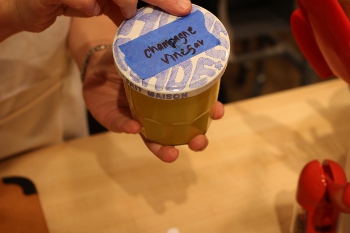 Seeing the Proportions:
The ratio of vinegar to oil should be between 1 to 3 and 1 to 4. Eventually, you'll be able to eyeball the proportion without measuring.
Bringing the Ingredients Together:
A quick shake holds the oil and vinegar together long enough to pour. If you want a dressing that remains emulsified for days, use a blender (or immersion blender).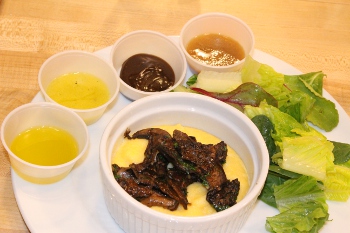 (In the center of the plate, you'll note there is a tasty-looking ramekin filled with polenta! Check out RecipeChatter.com for our post about making polenta from this Sur La Table class!)
Tips from Bittman:
Vinaigrette is an emulsion; a blend of oil droplets suspended in liquid–in this case, vinegar–with flavorings. Using a jar is the easiest way to make a creamy, smooth, emulsified dressing. Shaking the jar just before serving pulls everything together, at least temporarily. (If the oil starts to float to the top,  you just shake again.) A blender is easy and more efficient: It creates an emulsion that lasts for days. Either method delivers a fresher, more flavorful, smoother, and altogether better dressing than anything out of a bottle.
If the flavor seems too acidic, add more oil; too oily, add more vinegar (sometimes a few drops of water are all you need). Just taste and adjust as you go. In the end, the tartness of the acidic component is the dominant taste, while the fats provide the body and background flavor.
Variations from Bittman:
Include any of these along with the oil and vinegar — alone or in combination:
1 minced garlic clove or small chopped onion or shallot
1/4 cup chopped fresh parsley, basil, or dill leaves or 1 tablespoon rosemary, tarragon, or thyme leaves
1 inch fresh ginger, peeled and minced
1 tablespoon honey or maple syrup
1 pinch crushed red pepper or 1 minced red chile
1/4 cup freshly grated Parmesan cheese
1/2 cup crumbled blue or feta cheese
1/4 cup chopped dried tomatoes
1/4 cup pitted and chopped olives (green and black)
2 tablespoons sour cream or yogurt
How to Roast Bell Peppers:
Roasting bell peppers give them a smokey flavor that can add a lot of depth to the rest of your dish, be it a salad or sandwich. When preparing a roasted peppers recipe, it's best to use yellow, red, or orange bell peppers, according to Honiotes. Yellow, red, and orange bell peppers tend to be sweeter, whereas green bell peppers are more bitter. Honiotes had us prepare yellow and green peppers to taste the difference.
To prepare this easy roasted peppers recipe, you can use a broiler (which is recommended) or an oven. We only had an oven on hand at the class, so we used an oven to make this oven roasted peppers recipe.  Honiotes said it's better to use a broiler, but one can also use an oven–turning it as high as possible– to 450 degrees F or even 500 degrees F.
Basic Roasted Bell Peppers Recipe
Yield:
4 to 8 servings
Ingredients:
8 large bell peppers (any color)
Kosher salt
2 to 4 tablespoons olive oil
Instructions: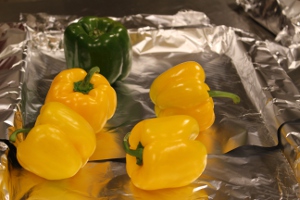 1. Heat the oven to 450 degrees F or position the rack under the broiler about 4 inches form the heat source and turn it up high.
2. Put the peppers on a rimmed baking sheet lined with foil.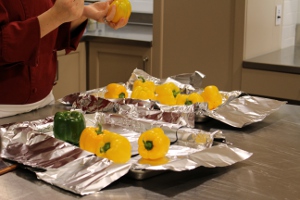 3. Roast or broil, turning the peppers as each side browns  (about every 10 to 15 minutes), until they have darkened and collapsed, 15 to 20 minutes under the broiler; 50 to 60 minutes if roasting. The peppers should have a charred look on all of their sides.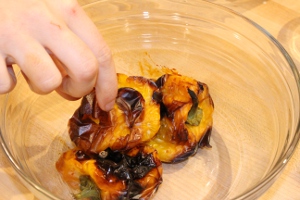 4. Gather up the corners of the foil from the pan and tightly wrap the peppers (use a kitchen towel to help if the foil is too hot). Cool until you can handle them, about 15 minutes, and then remove the skin, seeds, and stems. (You can do this under running water to make it a little easier.)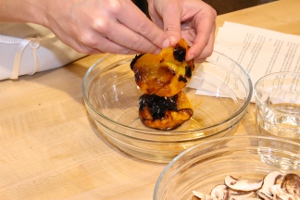 Don't worry if the peppers fall apart.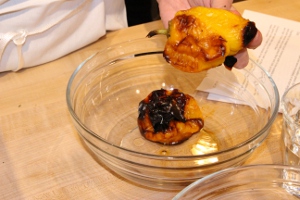 5. Serve the peppers within an hour or so, sprinkled with a pin of salt and drizzled with 2 tablespoons olive oi, or more if desired. (Or, drizzle them with 1 or 2 tablespoons of olive oil and store them in the refrigerator for up to a few days; bring them back to room temperature before serving.)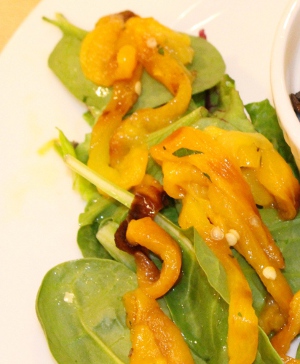 Variations on Cooking from Bittman:
To roast peppers on a grill: Prepare a grill; the heat should be medium-high and the rack about 4 inches from the fire. When the fire is hot, put the peppers directly over the heat. Grill, turning as each side blackens, until they collapse, 15 to 20 minutes. Then continue with step 4 (above), using a piece of foil to wrap them after they come off of the fire.
Dining Variations from Bittman:
6 Ways to Eat Roasted Peppers:
With a fork
On a green salad
On a sandwich or bruschetta
Tossed with pasta
Pureed in a blender or food processor with 1 cup cream cheese or sour cream to make a spread
Pureed in a blender with another 1/4 cup (or more) olive oil and salt to make a condiment that's good for anything from burgers to steamed fish
Watch out for more posts on RecipeChatter.com from our cooking lessons at Sur La Table!
**Recipes reprinted with permission from Sur La Table from How to Cook Everything: The Basics by Mark Bittman. Small notes were added within instruction lines for clarity. Photography by Blair Chavis and Rachel Bernstein of Prime Publishing LLC.

Latest posts by AllFreeSlowCookerRecipes
(see all)