Print This Post
I used to be intimidated by a lot of truly appetizing chicken recipes just because I'm not confident in my chicken cooking skills. I know I can do it, but the chicken just doesn't come out as delicious. I'm probably just too used to professionally-cooked, tender chicken from stores or restaurants. That's why rotisserie chicken is the best discovery I've had in a long time!
Here's the new routine. When I'm out grocery shopping, I pick up a hot-and-ready rotisserie chicken (at Walmart, they're usually only $6!). When I get home, I immediately pull all the chicken from the bone and put it in a container. Then, I use that chicken to make all sorts of easy dinner recipes on weeknights. It's the best, and it sort of tricks everyone you know into thinking you're a magical cook. Now you know my secret!
Once you realize all the ways you can use rotisserie chicken, including chicken casserole recipes and crescent roll recipes, you'll want to use this strategy all the time. It just saves so much time and money! You'll have more time to make amazing side dishes, too.
It gets even easier when you use a slow cooker. Simply set up a delicious slow cooker chicken recipe before you leave for work, and come home to an absolutely perfect home-cooked meal. It's great because you won't have to turn on your oven in the summer heat. For many of these slow cooker chicken recipes, you can skip a few steps because the chicken is already prepared.
Here's one more amazing tip: If you don't want to buy your chicken, you can actually cook a whole chicken in your slow cooker.
To get you started on your new favorite lazy way to make dinner, here's our round-up of rotisserie chicken recipes from AllFreeSlowCookerRecipes.com.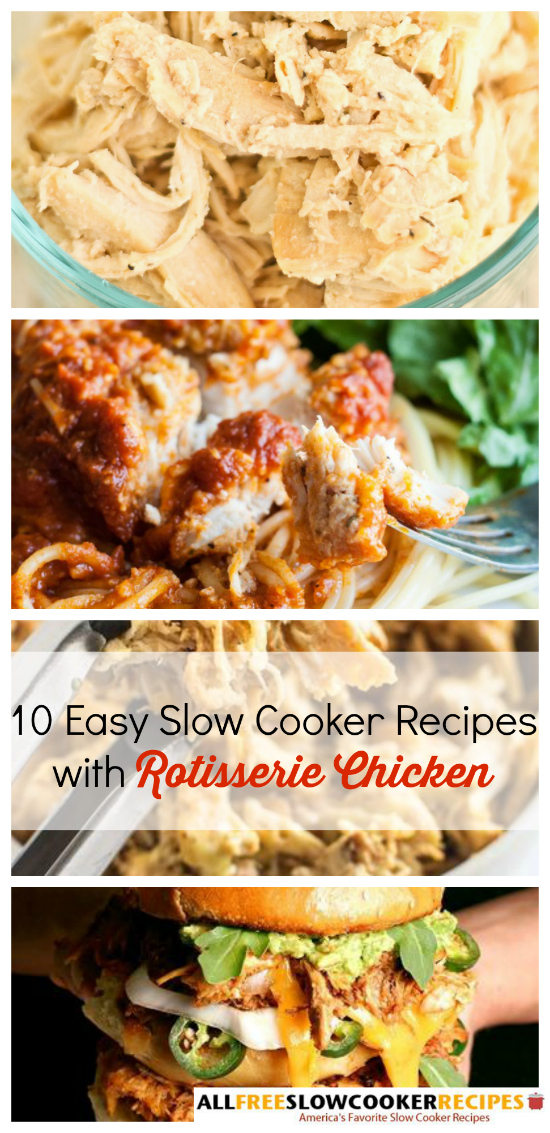 10 Easy Slow Cooker Recipes with Rotisserie Chicken
Which slow cooker chicken recipe seems the most tasty?
AllFreeSlowCookerRecipes is dedicated to the best slow cooker recipes and cooking tips. From easy slow cooker dinner recipes to slow cooker dessert recipes with cake mix, we find and deliver the best slow cooker recipes from all over the web. Plus, we feature free product reviews and giveaways of all the latest and greatest products including slow cookers, cookware and cooking gadgets of all sorts, cookbooks, food, and more. AllFreeSlowCookerRecipes is a wonderful online resource for cooking enthusiasts of all skill levels.
Latest posts by AllFreeSlowCookerRecipes (see all)
Print This Post