It's getting to be that time of year when all I want to do is snuggle up on the couch and watch movies. With a little bit of a chill in the air already, it's the perfect time for movie marathons with my family, and that of course also means snacks!  Whether you're a fan of salty or sweet, or are one of those people who loves the combination of the two, you're going to want to check out the list of must-make snack recipes that I've compiled below for my upcoming fall movie nights with my family. These addictive treats are the perfect things to munch on while glued to the TV screen , from a deliciously sweet version of "puppy chow" to a pull-apart bread recipe like none you've ever tried before.
If you're in need of some new ideas for snack recipes, keep reading to find your new favorite "nosh," plus scroll to the very bottom of the post for your chance to win a prize package for your own "family fun" night (hint: it includes a free 3-month Netflix subscription)!
4 Easy Snack Recipes for Family Night:
Irresistible Texas Cheese Fries – French fries aren't just for accompanying burgers. These "loaded" fries are the perfect thing to snack on while watching TV or a movie. Topped with Cheddar cheese, bacon and green onion, these aren't your average fries and one bite will make you see just how crave-worthy this snack truly is.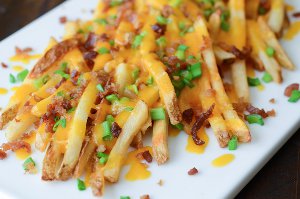 Amish Peanut Butter Spread – When you want to serve a crave-worthy dip that's more sweet than salty, whip up this super easy peanut butter spread that's made with peanut butter and marshmallow fluff.  Pretzels, apples, crackers or anything else you can think of would taste great dipped in this yummy spread, so get creative with it!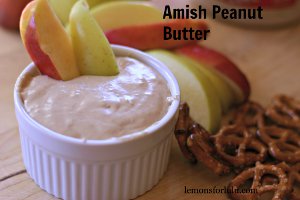 No Bake White Trash Candy – I've talked about this recipe before, but it bears repeating because it's so darn delicious. I could seriously devour handful after handful of this puppy chow inspired snack, made with Golden Grahams cereal, chocolate chips, peanut butter, powdered sugar and more. Yum!
4-Ingredient Pizza Pull-Apart Bread – Pizza dough, pizza sauce, cheese and pepperoni are all you need to make this perfectly shareable snack that will be gone practically before your movie begins, it's so good. I'd suggest making more than one of this crazy delicious pull-apart bread so you can enjoy it throughout your movie night. You'd be surprised how fast this pizza bread will disappear from the serving plate once people realize just how yummy it is. Everyone loves pizza and when it's extra cheesy like this pull-apart version is, even better!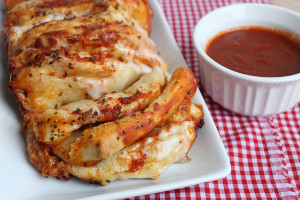 If you want to have your own "family fun" night, enter our latest giveaway. Included in this awesome prize package, courtesy of SeaPak, is:
*a SeaPak VIP product coupon
*a $20 Visa gift card
*a 3-month Netflix subscription
*an assortment of popcorn and candy
Enter today for your chance to win!
Latest posts by RecipeLion
(see all)