March Madness is almost upon us. Pretty soon, all that anyone will be talking about will be their brackets, betting pools, and viewing parties. But you know what I'll be talking about? I'll be talking about (and figuring out) easy snack recipes and gluten free appetizers. I mean, you can't have March Madness viewing parties without finger food, right? What would be the point of that?
This year, I'm planning on treating March Madness like a drawn out Super Bowl party. I'm going to try a bunch of different gluten free snacks and appetizers just because I can. Snacking is a good way to pass the time if the game that's currently playing is super boring or if you're nervous about a certain team moving on. Stuffing your face is a great way to either pass the time or calm down. I'm assuming that, this year, I'll be wanting to do both.
March 15th is "Selection Sunday," meaning that you need to have your easy snack recipes and assorted appetizers figured out and ready to go because if there's one thing I've learned over the past few years it's that March Madness moves pretty fast and so does your food (even if it's gluten-free).
Below is my snack and appetizer roster for March Madness. Though these foods may be gluten-free, they taste great. Friends with conventional eating habits and no dietary restrictions will never notice that these foods (including the chips and dips) are gluten-free. I promise.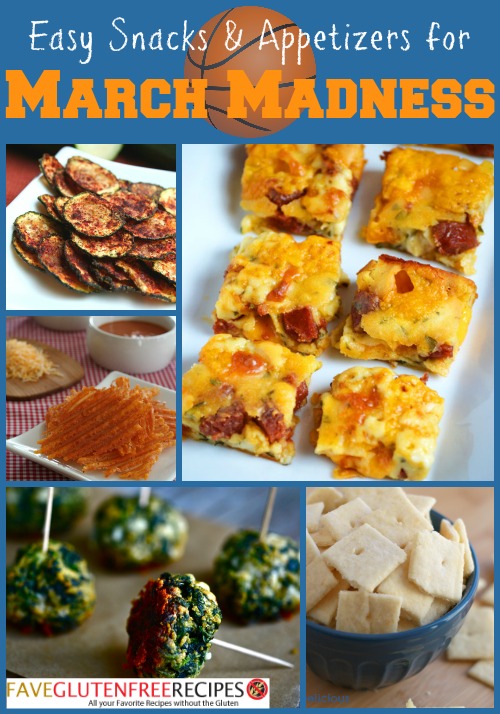 Gluten-Free Appetizers
1. Make Ahead Sweet and Sour Meatballs
2. Pepperoni Pizza Mini Muffins – These are SO GOOD.
3. Crispy Quinoa Bites
4. Spinach Dip
5. Brown Sugar and Bacon Wrapped Lil' Smokies
6. Cowboy Dip
7. Grab 'n' Go Ham and Cheese Bites
8. Bloomin' Onion Bread
9. Brazilian Cheese Rolls
10. Queso Fundido
11. Cheesy Pizza Dip
12. Baked Cauli-Tots
13. Blazin' Buffalo Chicken Dip
14. Spinach Balls
15. Cheesy Pepperoni Squares
Easy Snack Recipes
1. Garlic and Parmesan Kale Chips
2. Easy Two Ingredient Cheddar Crisps
3. Buttery "Ritz" Crackers
4. Baked Zucchini Chips
5. Copycat Chex Mix
6. No-Bake Banana Nut Protein Bars
7. Baked Cinnamon Apple Chips
8. Peanut Butter Yogurt Fruit Dip
9. Zesty Oven Fries
10. Dairy-Free Fudge
11. Flourless Fudge Brownie Bites
12. Easy Homemade Tortilla Chips
13. Baked Corn Chips
14. Picture-Perfect Cheesy Popcorn
15. Just-Like Cheez-Its White Cheddar Crackers
16. Pack-and-Go Snack Mix
P.S. Odds are that your March Madness bracket won't go your way. Sorry about that! Instead, try your luck and enter our Tastefully Simple Dreaming of Desserts Giveaway! You could win a pack of super tasty gluten-free baking mixes. The giveaway is going on through this Sunday, March 15th, so hurry up and get your entries in!
What team are you rooting for during March Madness this year?
Latest posts by FaveGlutenFreeRecipes
(see all)