Today, we're coming at you with a delicious soup recipe straight from the Sweet Tomatoes restaurant kitchen! However, this isn't a copycat soup recipe. No, no! It's an actual Sweet Tomatoes recipe! How cool is that?
Hands down, one of Sweet Tomatoes' most popular and most requested recipes is its Asian Ginger Broth. In fact, we've heard of people making repeated trips to Sweet Tomatoes just to grab a bowl of Asian Ginger Broth. This particular soup base is light, yet satisfying. Plus, it's so easily customizable. In other words, it's a great base for pretty much anything that you want to throw in it!
We understand that not everyone is a fan of ginger or that ginger can be a very intimidating flavor. However, it's not overpowering in this easy soup recipe. When mixed with the garlic and the vegetarian base, the ginger adds flavor depth instead of being the main flavor.
While this easy soup recipe may sound a bit daunting or strange, it's definitely worth making (especially if you're in the mood for something warm and comforting). Whether you're in the mood to try something new or are craving something that will make you feel all warm and fuzzy inside, Sweet Tomatoes' Asian Ginger Broth is the soup for you.
Sweet Tomatoes Asian Ginger Broth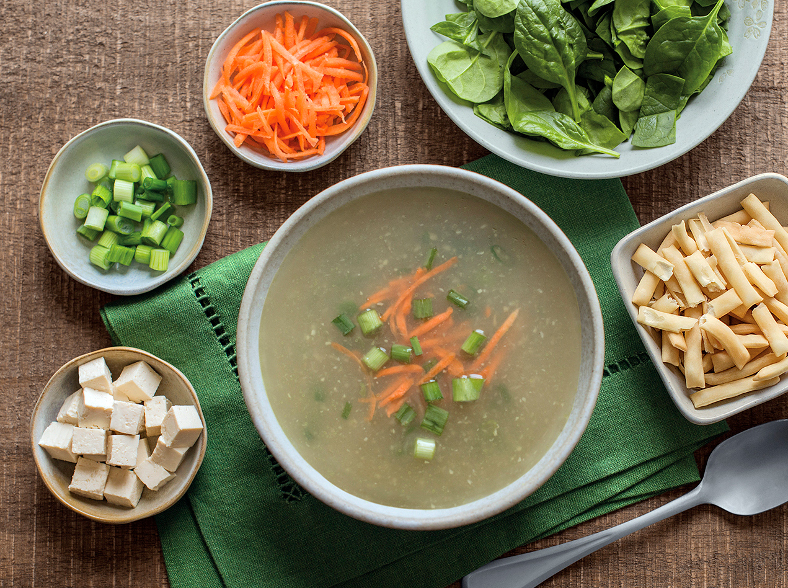 From Sweet Tomatoes/Souplantation
(Yields about one gallon of soup)
4 tablespoons finely minced ginger
3 tablespoons finely minced garlic
2 tablespoons canola oil
6 tablespoons cornstarch
2 cups cold water
14 cups water
6 tablespoons vegetarian base (see note below)
Combine ginger, garlic and oil in a large pot and saute for 5 minutes.
Add cornstarch and 2 cups cold water to the pot and whisk to dissolve.
Once the corn starch mixture has dissolved, add the rest of the water and the vegetarian base to the pot and bring it to a boil. Simmer for 15 minutes. Season to taste with salt and pepper.
Note: Sweet Tomatoes uses Custom brand vegetarian base, but you can use any vegetarian base that you have on hand or can find in your local grocery store.
Once your base is ready, you can garnish it with any combination of the following items: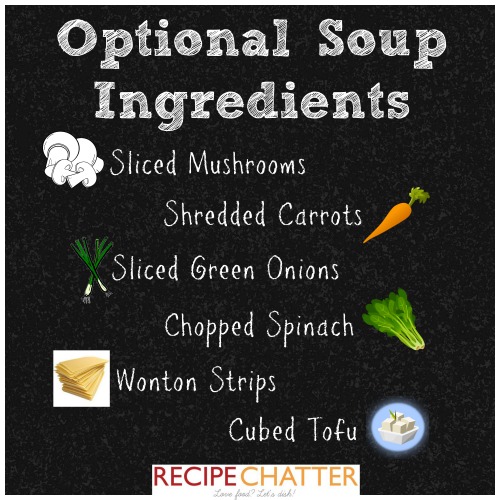 On the hunt for more easy soup recipes? Try a few of these!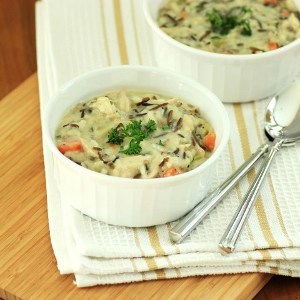 Sweet Tomatoes Copycat Sweet Tomato Basil Soup
Just-Like Outback Steakhouse Easy Potato Soup
Better Than TGI Friday's French Onion Soup
Copycat Panera Cream of Chicken and Wild Rice Soup (pictured)
Copycat Carrabba's Minestrone Soup
Copycat Takeout Wor Wonton Soup
Sweet Tomatoes Creamy Turkey Soup Copycat
What kinds of vegetables and garnishes are in your favorite easy soup recipes?
Latest posts by AllFreeCopycatRecipes
(see all)