Ah, the sweet, sweet tastes of summer.  I just can't get over how great produce tastes when the weather gets warm. Every single year it never fails to impress me, and every single year I find myself oohing and ahhhing in the fruit and veggie area of the grocery store trying to figure out exactly what I want to get.  Everything just looks so darn delicious in the summertime, don't you think?  I want to make every single fruit dessert recipe I find online, and don't even get me started about Pinterest!
There is one recipe that I always have to make every summer because my family specially requests it.  This awesomely delicious sweet Summertime Strawberry Pie is one of the most tasty pie recipes I've ever had the pleasure of eating.  The first time I tasted it was at a potluck when my friend brought it along and as soon as I had my first bite, I knew I had to have the recipe.  So, since this is one of my family's favorite dessert recipes to enjoy during the warm summer months, I figured I should share it with you all here today.  Go grab a basket of strawberries from your local market and make this pie… trust me!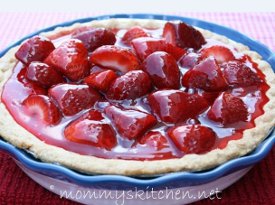 Ingredients:
1 cup granulated sugar
1/4 cup cornstarch
1/4 cup strawberry gelatin (jell-o)
1 1/2 cups water
1 tablespoon lemon juice
1/2 teaspoon strawberry extract
1 1/2 pounds fresh strawberries, hulled and sliced in half (about 2 to 3 cups)
1 (9-inch) regular pie crust, pre-baked
Instructions:
Preheat the oven to 350 degrees F.
Line the bottom of your pie shell with parchment paper or foil. Place pie weights or dry beans on the paper. Pre-bake the pie crust until golden brown, approximately 15-20 minutes.
When done remove pie weights, beans and parchment paper. Let the pie crust cool completely on a wire rack. While your pie crust is cooling prepare the strawberry filling. Combine the sugar, cornstarch, gelatin, lemon juice, strawberry extract and water in a medium size pot.
Bring mixture to a boil, then reduce heat to medium and cook until the mixture thickens, whisking often.
Remove from heat and let the mixture cool to room temperature. Arrange the strawberries in the baked pie shell. Pour the filling over the strawberries coating them completely.
Refrigerate until set about 2 hours. Store in the refrigerator up to 2-3 days. Serve with a dollop of whipped cream.
Our thanks to Featured Foodie Tina Buttler for this awesome easy pie recipe!
What's your favorite kind of pie?
Latest posts by RecipeLion
(see all)