This guest blog post comes to us from Judy Hannemann from The Midnight Baker food blog.
Recently, I took part in a challenge put forth by The Giving Table called "Food Bloggers Against Hunger," to draw attention to hunger in America, particularly in children.
Various suggestions were given for what you could highlight in your blog post.  I chose shopping on a SNAP budget.  As the food budget for SNAP recipients is between $3 and $4 per day per person, I thought the task would be difficult, if not impossible, to not only eat, but eat relatively healthy. I had to draw heavily on experience from many years ago.  It's not easy to live on an academic budget, so I had to get creative and learn a thing or two.
The results surprised me.  Not only was I able to purchase adequate food for a family of four, but I was also able to buy a good amount of fresh produce, organic dairy products, and unprocessed meats.  I came in so under budget, that I could have added more "treats" and some coffee as well. Here are some photos of just some of the items I purchased.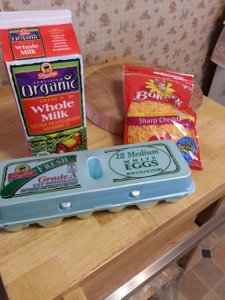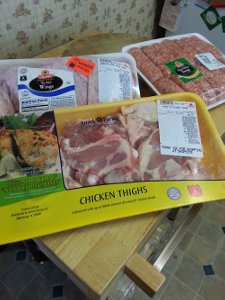 I achieved this by careful shopping.  I read my local store adverts, made a list, and stuck to it. I also planned my trip since I live in a rural area and factored in unnecessary driving.  I hit several stores, all on my route.
The best advice I can give any shopper who wishes to keep to a budget and eat healthy is pretty simple if you know how a food store is laid out.  You'll find the basics in the perimeter of the store: meat, produce, and dairy.  As you move towards the center aisles, the food gets less healthy.  For instance, most soda, chips, and candy are somewhere around the center aisle of the store.  So, my advice is to avoid the central aisles if your intent is to eat healthy and keep to a budget.
This challenge also ignited my creative juices for developing recipes that were filling, tasty, and healthy.  Here is one that I reworked from an old family favorite with my purchases.
Chicken with Creamy Brown Rice
4 chicken thighs (or any other parts)
1 cup brown rice
2 cups water
2 cans (10 oz) cream of chicken soup
1/2 cup sliced celery
1/2 cup sliced carrots
1/2 cup sliced mushrooms
1 tbs olive oil
1/2 tsp salt
1/4 tsp pepper
1/4 tsp thyme
1 tsp olive oil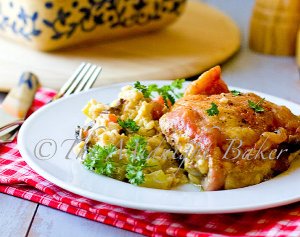 Can you believe you can have this authentic Orange Chicken on a tight budget as well?  I made this with the chicken thighs I got on special and the fresh broccoli crowns – also on special.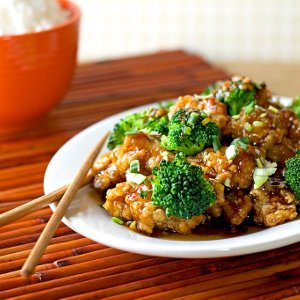 This Peach Crisp makes a nice dessert or an energy-filled breakfast.  It's healthy, too!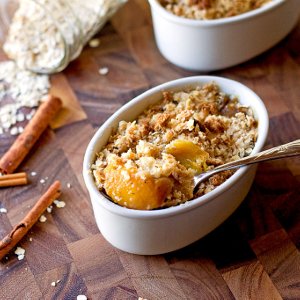 And finally, what can be better than a quiche to use up any leftovers and stretch that food budget even further. You can find 6 quiche recipes in our earlier post.
So, how do you stretch your food dollar and shop wisely?
Latest posts by AllFreeCasseroleRecipes
(see all)