The one thing people do in all cultures is eat. In fact, one of the easiest ways to get a "taste" of a new culture, is through its food. If you think of any party or gathering you've been to, it's likely that food was an important factor in the party. That's because food has the amazing power to bring people together. And if you're feeding a crowd, one of the easiest ways to do that is with a casserole.
Even though casseroles aren't actually eaten everywhere in the world, these recipes are inspired by cuisines from across the globe. So, with these casseroles you can experience many different cultures. The part is you only need your 9 x 13-inch baking dish – no ticket required!
If you don't have the means to travel the world, you can send your taste buds on a culinary journey without leaving your home! These recipes are a cheap and easy way to try food from other cultures. We have included easy casserole recipes that are Mexican, Italian, Chinese, Jewish, German, Polish, and Greek. Escape your comfort zone by trying one of these recipes from other cultures.
Since casseroles are meant to be shared, these international casseroles are a good excuse for a party. Wouldn't it be fun to host an "Eating Our Way Around the World" or a "Tour de Casserole" party? I definitely think so! Traveling is always more fun when you have someone to share it with and these international casserole recipes are no different.

Eating Our Way Around the World: 28 International Casserole Recipes
Mexican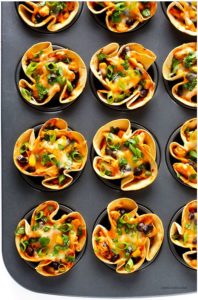 Beefy Mexican Skillet Casserole
Mini Mexican Enchilada Casserole Recipe (shown)
Green Chili Chicken Enchilada Casserole
Italian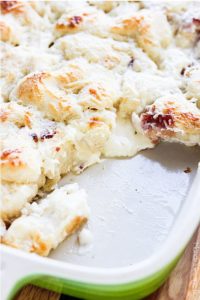 Classic Meat and Cheese Baked Ravioli
4-Ingredient Meatball Sub Casserole
Grandma's Famous Sausage Skillet Lasagna
Bubble-Up Carbonara Casserole (shown)
Chinese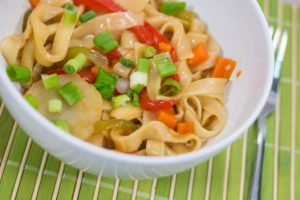 Chinese Noodle Casserole (shown)
Asian Chicken and Rice Casserole
Crunchy Beef and Broccoli Casserole
Jewish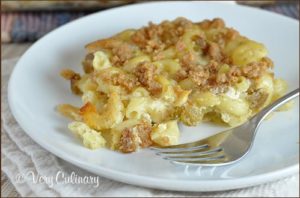 Baked Kugel Mac and Cheese (shown)
German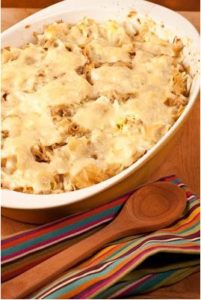 German Style Ham and Cabbage Casserole (shown)
Old Country German Cabbage Casserole with Ground Beef
Polish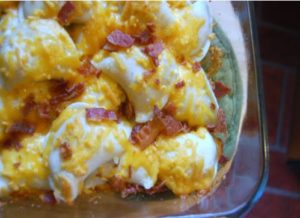 Sinfully Easy Baked Pierogi Casserole
Pierogi Casserole with Roasted Garlic and Bacon
Baked Pierogi and Bacon Casserole (shown)
Greek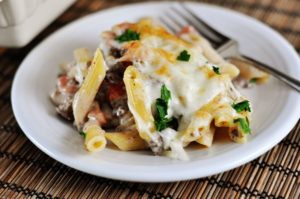 Deconstructed Greek Pastitsio Casserole (shown)
Tomato and Feta Quinoa Casserole
Moussaka with Eggplant and Ground Beef
What's your favorite type of international cuisine?
Latest posts by AllFreeCasseroleRecipes
(see all)