Today is Day 2 of our 12 Days of Christmas in July Giveaway. You can enter each day to win the prize of the day! Contest rules and how to enter are below.
It takes just a minute to enter: simply comment below answering the question of the day!

Today's Recipe
On the second day of our 12 Days of Christmas in July Giveaway, my true love gave to me…this Eggplant Parmesan Recipe from Swiss Diamond!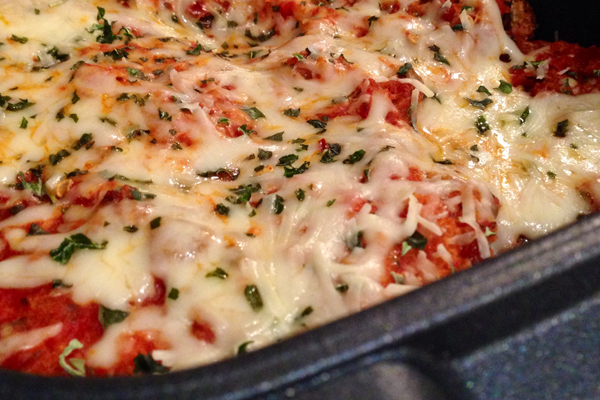 Prep Time: 20 Minutes
Cook Time: 75 Minutes
Yield: 6 Servings
Difficulty: Easy
INGREDIENTS
1/2 Cup all-purpose flour
4 Egg whites, lightly beaten
2 Cups whole wheat panko
1 Large eggplant, cut into 1/2 inch slices
3 Cups marinara sauce
1/4 Teaspoon salt
1/4 Teaspoon pepper
1 Teaspoon crushed red pepper flakes
2 Cups reduced-fat shredded mozzarella
2 Tablespoons fresh basil, chopped
1/2 Cup grated Parmesan
1 Package whole wheat spaghetti, cooked following package directions
DIRECTIONS
Place flour, egg whites and panko in separate shallow dishes. Dredge eggplant slices in flour, dip in egg whites and coat with panko. Place on Swiss Diamond Double-Burner Grill Pan in a single layer.
Bake at 375° for 25 minutes, flip and bake for another 20 minutes or until eggplant is tender and panko is golden brown.
Spread 1 cup of sauce over the bottom of your baking dish. (We used the Swiss Diamond Roasting Pan, but a Casserole dish would also be perfect for this recipe!) Place half of the eggplant slices over the sauce and season with 1/8 tsp of salt and 1/8 tsp pepper. Layer with 1 cup of the sauce, 1 cup of the mozzarella, ¼ cup of the grated Parmesan, 1 tbsp basil and ½ tsp red pepper flakes. Repeat layering with remaining eggplant, salt, pepper, sauce, mozzarella, Parmesan, basil and red pepper flakes.
Bake at 375° for 30 minutes or until cheese is bubbly and melted. Serve over cooked whole wheat spaghetti.
ENTER TO WIN TODAY'S PRIZE: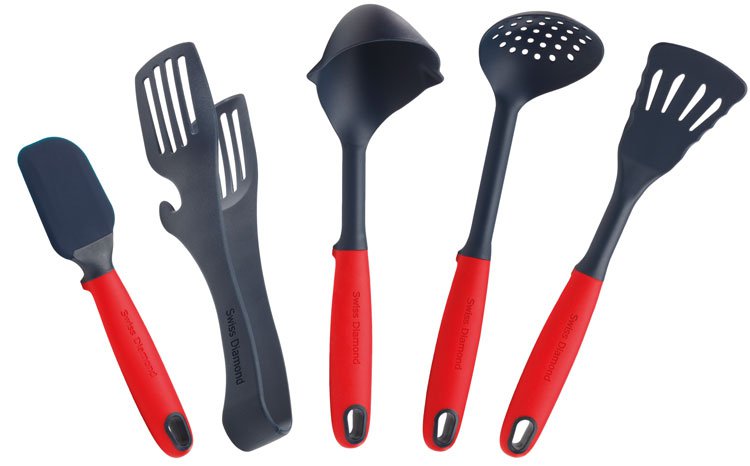 Enter to win a 5 Piece Kitchen Tool Set from Swiss Diamond! These kitchen tools will last and last you, unlike so many others. The silicone handles will save your fingers from burns while the raised heads keep your kitchen sanitary.
In order to win today's 12 Days of Christmas in July Giveaway, all you need to do is leave a comment on this blog post below telling us:
What is your favorite way to cook with eggplant?
OFFICIAL RULES FOR DAILY CONTEST:
There is a maximum of one entry per person. The entry will be based upon a comment left on this blog post. Duplicate comments will be deleted and are not tallied.
Winner will be selected at random from the comments on this blog post.
Winner will be announced here on the blog July 16, 2015 as well as contacted by the email address provided.
You have until tomorrow, July 15, 2015 at 11:59p EST to leave your comment on the project above. Comments posted after that will not be counted.
Contest open to anyone 18+ in US and/or Canada.
THIS CONTEST HAS ENDED. Check out the rest of the 12 Days of Christmas in July giveaway series. There are still 10 chances to win!

Congratulations to Jannet!

You've won the 5 Piece Kitchen Tool Set from Swiss Diamond! You will receive an e-mail shortly.
Latest posts by AllFreeCasseroleRecipes
(see all)