While there's never a bad time for Mexican food, summer is an especially great time to enjoy the popular ethnic fare. The spicy and fresh flavors of Mexican ingredients fit right in with this hot weather. You've got a little spice to match the heat, but you've also got the coolness of sour cream and other crisp vegetables to balance everything out. AllFreeCasseroleRecipes has been seeing tons of different Mexican food trending this summer. The best part about Mexican food? Since much of Mexican food uses the same basic ingredients, you can make an easy one-pot meal in our favorite form – the casserole!
From our kitchen to yours, here is Emily's Favorite Mexican Casserole. This easy dish comes from the traditional chilaquiles, which are basically tortilla chips fried until they're soft and then served with other authentic ingredients. This version bakes the chips with peppers, onions, black beans, sour cream, and, of course, lots of cheese. The end result is something quite similar to nachos, only better. There's lots of room for experimentation and your own variations. Add your favorite meat or taco toppings and you've got your own favorite Mexican casserole.
Emily's Favorite Mexican Casserole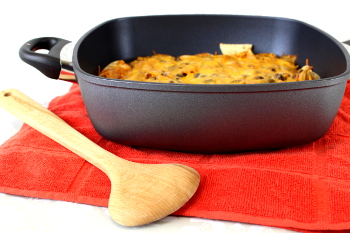 Ingredients:
1 (14-ounce) bag frozen peppers and onions or Mexican vegetable mix
1 (16-ounce) jar salsa
1/2 cup sour cream
1 can black beans, drained and rinsed
1/2 bag tortilla chips
2 cups shredded Mexican cheese blend, divided
Directions:
1. Preheat oven to 350 degrees F. Heat a large skillet to medium-high heat and combine frozen veggies and salsa. Cook until warmed through and bubbling slightly. Take off heat and allow to cool for 5 minutes.
2. Meanwhile, line bottom of baking dish with a thin layer of tortilla chips.
3. Once the mixture in the skillet has sufficiently cooled so that the sour cream won't curdle, add sour cream and black beans to the skillet and mix well.
4. Evenly pour half of the mixture in the skillet on top of the tortilla chips in the baking dish. Cover layer with one cup of cheese.
5. Repeat with another layer of tortilla chips, the rest of the mixture, and top with the remaining one cup of cheese.
6. Bake for 15 minutes. After 15 minutes, cover baking dish with foil or an oven-proof lid. Cook for an additional 15 minutes or until cheese is melted and bubbly.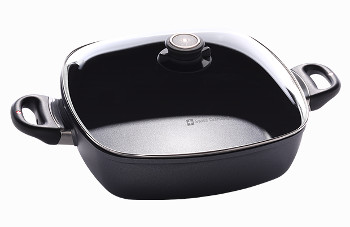 What made this Test Kitchen recipe even easier to put together was the Swiss Diamond Square Casserole with Lid that we're giving away, now through August 3rd. It has a special nonstick coating that's made with real diamonds. Seriously, there's a reason why there's no step for spraying your casserole dish with nonstick spray – it wasn't needed!
It was also nice to have an oven-proof glass lid because it locked in moisture so that the casserole didn't dry out. This is especially important when working with things like tortilla chips. You can read more about why we are in love with this casserole dish here. To get right to the goodies, you can enter the giveaway for your chance to win!
What is your favorite Mexican meal?
Latest posts by AllFreeCasseroleRecipes
(see all)