Summer is unfortunately starting to wind down. The longest day of the year is behind us and everyone's starting to gear up for the school year once more. However, one great thing that we've noticed lately is that, in certain areas, the prices for strawberries have been dropping. All of that rain we've had this year is finally paying off! We here at TheBestDessertRecipes.com have decided to celebrate this momentous occasion by sharing with you some of our favorite strawberry dessert recipes.
Strawberries make for the most perfect summer desserts. When ripe, they're so sweet and so juicy that you'll feel refreshed after just one bite. We love whipping up easy dessert recipes with strawberries because they're easy to use and make the desserts as flavorful as can be. Strawberry dessert recipes can come in many different forms, including tasty pies, sweet cookies, and fun cakes. Take a look at a few of our absolute favorite strawberry dessert recipes to make in the summer.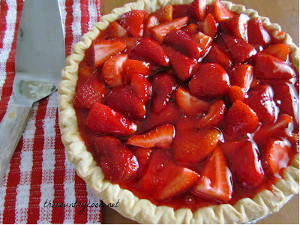 You won't be able to resist the juicy sweetness of this pie. The fresh berries swim in a strawberry sauce and sit atop whatever kind of pie crust you choose. If you don't have a lot of time, you can use a frozen pie crust and it will still taste great. Plus, it's one of the easiest no-bake strawberry dessert recipes you'll ever come across. You have to try this pie.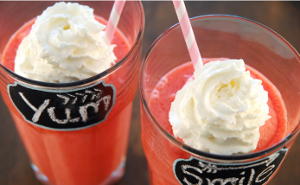 Smoothies just seem to taste best in the summertime. Out of all of the strawberry dessert recipes on this page, this smoothie recipe is definitely the most refreshing. It'll fill you up without slowing you down. Plus, it's super easy to make. Just throw all of your ingredients into your blender and blend until smooth. You'll be enjoying a refreshing treat in no time.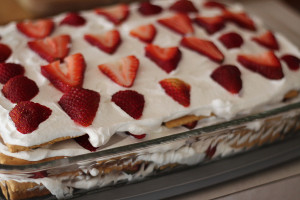 Even though summer's winding down, the weather is still as warm as ever. With this Summer Strawberry Ice, you won't have to heat up your house in order to enjoy one of the best strawberry dessert recipes summer has to offer. Sweetened whipped cream layers between graham crackers to create a chilled dessert that will have you reaching for more.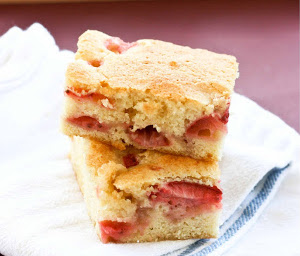 Move over regular chocolate chip blondie bars! You will love how soft, fluffy, and satisfying these treats are. The strawberries make the bars, sweet while the white chocolate adds an extra flavor depth. It also keeps the strawberries from completely overwhelming the dessert's flavor (not like that would necessarily be a bad thing, of course).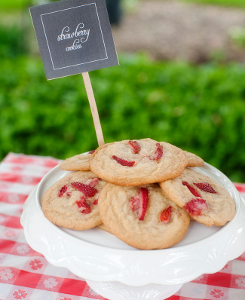 This is one of those strawberry dessert recipes that is practically perfect for all occasions. Post-dinner treats, potluck or picnic gatherings, pool party sweets… You can bring these cookies anywhere. The dough is similar to a simple chocolate chip cookie dough (minus the chocolate chips of course) so you know that the cookies won't be difficult at all to make.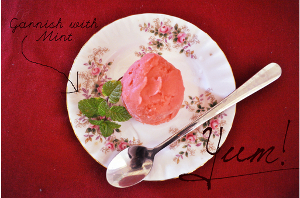 Made with fresh strawberries, a bit of lime juice, and two other simple ingredients, you'll find that this sorbet is lighter and much more flavorful than any ice cream you've ever tried. Since it needs a few hours to freeze, you can make it in the morning when you wake up (or even around lunch time) and it will be ready to go by the time you've finished eating dinner.

Check out more great strawberry dessert recipes from these bloggers:
Strawberry Crisp from The Whinery
No-Bake Creamy Strawberry Fluff from A Farmgirl's Dabbles
Strawberry-Rhubarb Hand Pies from Badger Kitchen
What's your favorite strawberry dessert?
Latest posts by TheBestDessertRecipes
(see all)